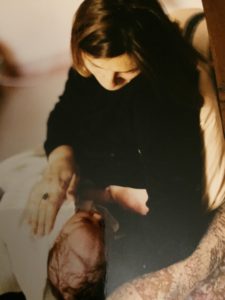 At 7pm on the 27th October 1998, I was several hours off becoming a mother. Being a first-time mother and everything being quite s-l-o-w, I was hopeful that it wasn't as far away as it actually was. In reality, I wouldn't be ready to push until 2am.
I was using water in labour, some 9 years before WA would get its act together and create a water in labour policy. If I had lived in NSW on the 27th October 1998, it would have been much more routine for a low-risk mother like myself to be offered the option of a waterbirth.
This demonstrates what I know in my bones – it's not about the research, it's about the culture. Unfortunately here in Western Australia, certainly in the maternity world, we are still in thrall to the medical profession. In this world, we are far more afraid of allowing a woman to immerse herself in a tub of salty water than we are to inject a range of powerful painkillers into her spinal area which will definitely cross the placenta.
About this time two decades ago, 7 pm on 27th October 1998, I would have been advocating for myself, and my request for more time to let labour unfold was expressed firmly, using medical terminology. What it actually sounded like was; "I WANT A VE (vaginal examination) BEFORE YOU TRANSFER ME!"
I was fully aware that I would be bullied. I expected it and didn't take it personally. I didn't take it lying down, either. I was firm with the Obstetrician, who did do a VE and noted that at 3-4cm I could carry on. He left me to it. I was "one of those" labouring women.
I was having my daughter at the Family Birth Centre Birth, at Swan Districts Hospital. The Family Birth Centre would last for just 18 months before becoming offices for obstetric staff, with all the glorious irony of a Christian Church built on top of a pagan site, as they so often are in Italy and Greece.
I squatted and I moved as much as I could. I used the many different labouring positions I had practised for the last five months of my pregnancy. I kept the birth within my power as much as I could, riding the wild waves of nature that birth actually is. I was lucky, and it all went my way, resulting in a happy, healthy, intervention-free birth.
The wonder and awe of managing to have a natural birth was a wave of joy I would ride until at least the first 72 hours after birth.
A daughter was born. A mother was born. A birth advocate was born. In that order.
As I contemplate that day with 20 years of experience as a maternity advocate, what change has there been in my home state of Western Australia?
There is a water birth policy. But still, in WA, most hospitals will not routinely offer water birth

Midwifery-led care is still the exception, not the rule. It is growing, but with a glacial place.

We still don't have benchmarks across our nation to say what our targets for midwifery-led clinics should be. And we are meeting that by making no coherent progress.
Women are still having the conversation with their GP that goes a bit like "You're pregnant,

congratulations

! Do you have private health insurance? Which obstetrician would you like?"

Women are STILL not aware that they can opt for midwifery-led care if they are low risk, and this GP conversation has shifted little in two decades.
Women who are medium to high risk STILL largely don't have the option of care with a known midwife.
Women are STILL emerging traumatised from a first birth, vowing to do it differently next time. They still don't know what they don't know.
Women are STILL spending more time picking the right pram than thinking about how the birth experience can support them to make the massive transition from woman to mother.
We still have only one free-standing birth centre in Perth, but on the grounds of a tertiary hospital. We have another one being constructed as we speak, but this time right inside the ward of a tertiary hospital.
We have a smattering of midwifery group practices across our state.
I can say for me that the memory of my daughter's birth is still with me, twenty years later. It won't be with the midwife who was with me throughout the labour, or the Obstetrician who popped his head around the door a few times.
I suspect this is true for all women. The impact on us is life-long, and yet we still struggle to see our preferences enacted in the maternity services in our state. It still seems that it is always the health system who gets to have the final say.