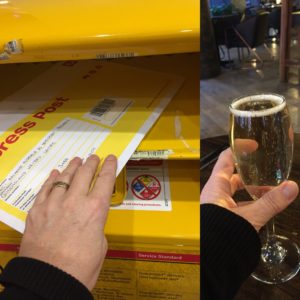 I was enjoying a coffee at one of my (many) favourite cafes recently when I bumped into a gorgeous woman I met at an NLP course. We had not studied together for more than two years but she remembered me talking about my novel manuscript.
She was kind enough to ask me where it was up to. I was so happy to be able to share that I have lodged it in two manuscript competitions!!
See the action shot below, of me posting one of them, and having a champagne to celebrate!
"Is it finished?" she asked.
Oh, how I wish!
Here is an action shot of me blithely posting the first 50 pages of my manuscript to a competition hosted by the Queensland Writer's Centre, combined with an action shot of the glass of champagne to celebrate.
This calm photo belies the panic of having finished my edits at 50 pages, exactly where I wanted the extract to end, then realising it was double-spacing, not 1.5 line spacing. So page 50 had become page 64 and more painstaking hours of editing were required.
When I had finally finished and printed it out, I lovingly placed it in the envelope, removed the cover from the adhesive of the envelope, then I could not resist pulling it back out for one more look. Page 50 stuck to the adhesive and could only be removed by me ripping it.
Off I went to print out the 50th page, only for some reason, it said "page 51". I triple and double-checked that it was the last page and could not account for the gremlin which had shifted the page number forward by one. In the end, I grabbed a pen and changed the one to a zero. Then came this action shot, and the much-needed champagne restorative.
I should find out in the next few months if I have been successful in either of the manuscript competitions I entered, and meanwhile, I will chip away with further edits. If I don't win either, I will then move onto plans B and C in order to get my first novel published! I will keep you posted.
But one thing is for sure – these writing projects are never finished!