Sunday Blog 35 – May 8 2022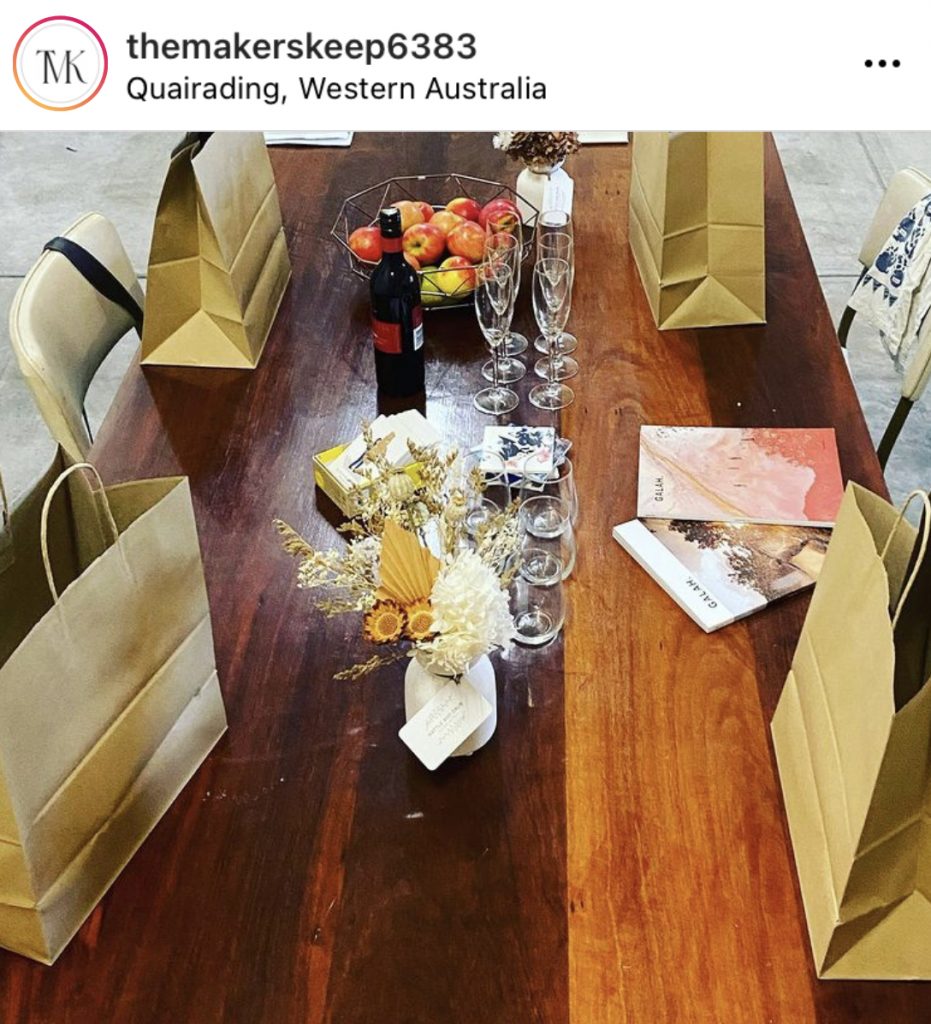 It's not that often that a group of women who meet at a Retreat follow through with meeting up again. You know how it goes (especially if you are a Retreat fanatic like I am) – you meet awesome women, exchange numbers or emails and promise to meet again.
This time it was different. We had two women attend the Retreat from Quairading, a town two hours' drive East of Perth in the Wheatbelt. It's on Ballardong Noongar Boodja, the land of the Ballardong peoples.
The women talked up Quairading suggested we re-convene there a couple of months after the Retreat, and this weekend about half the Retreat attendees, six of us in all – did just that.
We met at The Makers Keep 6383 which is a treasure trove store of original art, gifts, wares with a workshop space out the back. Our hosts had put together arrival packs (see photo) which typify both the warm welcome and why I love Australia. There was a two-pack fabric face mask and RAT because COVID had come to town, a Quairading map, sweet notebook and a fly net that goes over your hat. Flies are not usually bad in May but they were a bit friendly and the fly net definitely came in handy.
We stayed at the Quairading Hotel which is what it is, an ageing beauty with warm, welcoming hosts who could not have been more hospitable. It's a 1908 building with the gorgeous verandahs and wonderful high ceilings you get in old pubs. We had a floor to ourselves, we all had our own ensuite in our own rooms with a History of Quairading book on the bedside table. Maybe the carpet tiles aren't so awesome but the spaces were so clean and very comfortable. Soft towels. Nice smelling soaps. A space to retreat back into and do a bit of yoga, knock out a blog etc.
And the catering – the Quairading Hotel and local catering company Flavour Town Catering had catered for us with delicious food and generous (I mean generous) helpings of everything. It was all so tasty – especially the pea and ham soup with the special Toapin Rise Farm Rosemary Salt.
Morning coffee was from the Foodworks supermarket next door. I felt somewhat dubious about what the coffee might be like, but it massive shout out to Kymbo and Wicked – their Foodworks has coffee as good as any you'd get in Fremantle's cafe strip.
I took my coffee next door to the Makers Keep 6383 and sat out the back working on the novel. I had set myself the target of editing three scenes. The conversations drifted in and out from the shop every now and then as I edited. I am someone who doesn't mind some background noise when working.
And then… as if all of this wasn't awesome enough, it was World Labyrinth Day this weekend. You may know that I love a labyrinth and the Anglican Church just so happens to have a Chartres Cathedral-style labyrinth beautifully rendered in brick. On Friday night it had been lit up with candles around its edge, and I'd missed it. The town's resident Texan not only lit it all up again Saturday night for us, but she also put on a wine and cheese spread. I was just in heaven. Walked in to the centre, out again – it was just the best. Afterwards she shared stories of cutting the bricks to make the labyrinth. I went back at dawn for another go.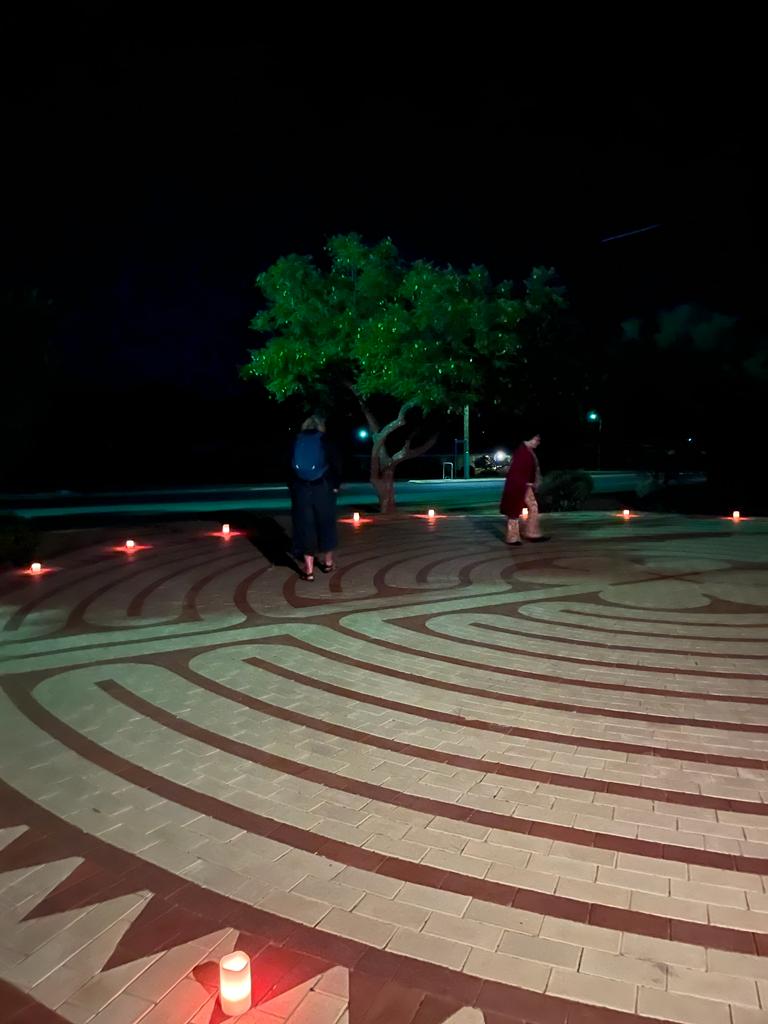 Taking weekend time for the Muse is important. Dressing for the Muse in loud pants is important.
Quairading, I will be back!