Sunday Blog 52 – 4th September 2022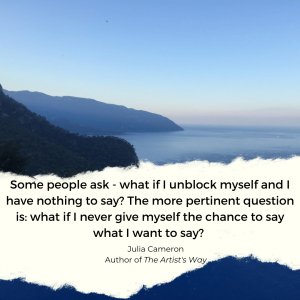 You read right, Sunday Blog 52 – which means I have been writing Sunday Blogs for one year of Sunday! I was initially inspired by the quote from the Seth Godin book Shipping the Work which is all about the concept of getting your creative thing (whatever it is) out into the world:
We don't ship the work because we're creative. We're creative because we ship the work.

Seth Godin, Shipping the Work.
This week I shipped a video of a song I had written recently, accompanying myself on my awesome kangaroo skin drum that I made since I finished up my Executive Director role at the end of March this year. Back in those early weeks when I swam around luxuriously in all the spare time I had. When I posted the song I noticed that wow, videos do resonate. I have only read that about fifty million times in every single social media course I have ever taken. Blow me down if it isn't right.
So I thought I would celebrate my one year Blogiversary with a bit of a flash back through all the images I have made for my 52 blogs. Since I drew my line in the sand on 29th August 2021 and committed to Sunday blogging. To sharing musings, podcasts and books, the stumbles and the wins. Turning pro.
Now there is one more line to draw in the sand. Daily writing. As Hilary Mantel said in this excellent article:
I feel shy of saying this, because to non-writers it sounds so lazy—but if, seven days a week, you can cut out two hours for yourself, when you are undistracted and on-song, you will soon have a book. Unoriginally, I call these "the golden hours." It doesn't much matter where I find them, as long as I do. 

Hilary Mantel, https://lithub.com/hilary-mantel-on-how-writers-learn-to-trust-themselves/
Thanks for listening and following along with the Sunday Blogs. Heres to shipping the work and carving out golden hours!