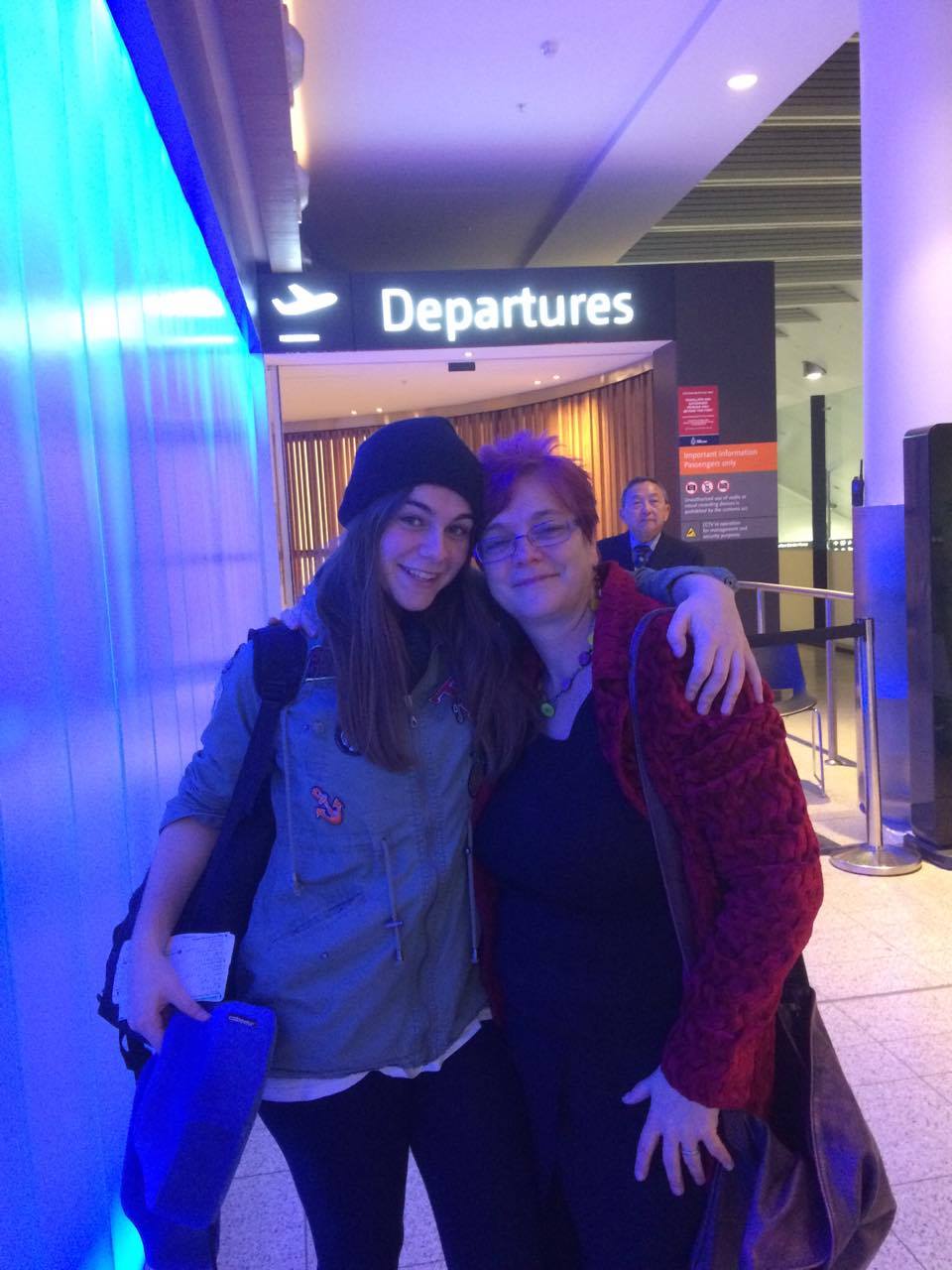 Is there anything more horrific than a farewell? Yet this is a moment of such parental pride and excitement. My daughter planned a Gap Year, worked hard to earn money to travel to Europe and has done it! She has donned the back pack and headed off for a glorious European holiday. Here we are in the final moment of farewell.
That last day I decided to work from home, to make sure everything was on track. Keep food and encouragement coming as the last tasks were slowly tackled among a gaggle of friends. Then the evening, meeting the new boyfriend's parents for the first time (lovely people) at a surreal mini-gig. The day slowly but inexorably disappearing into the departure time of 1am. What we want for ourselves is for our loved ones to take no risks. What we want for our loved ones is to do what they dream of, risks and all. And so it goes, the endless parental teetering between vicarious excitement and selfish anxiety.
At the short gig, my daughter sits on one of the bean bags favoured by the young attendees while we more mature patrons sit on the chairs. All of a sudden my mature and capable adult child takes on the look of a 12 year old. The music coaxes the first tears I have been doing my best to control all day. How can I have let this come to pass? Allowing her to travel On Her Own? How did I forget to be a Helicopter Parent?
It's not my choice, of course. She's 18 and the endless letting go of parenting is giving me another suffocating squeeze. Similar to last year's end of school which I wrote about in this blog – but much, much stronger.
The gig finishes, and then there is dinner with both our families. The clock ticks on. The streets of Fremantle will welcome her back in four months, her feet will walk these streets again, the bookshops will entice her in for another look. I know this in my bones.
Back home and another hour passes before we need to leave for the airport, my usual tame bedtime of 8.30 has long gone. My husband wisely decides to stay at home, says his farewells to his step-daughter on the front porch. Myself daughter and boyfriend in the car, as the trip moves far too quickly to the airport. Smoke hangs in the air, with a smell of burning. Like a London fog, it is hard to see, and the smell worsens as we reach the airport. Burning off? Something more sinister?
At the airport we made our way through the smoky air. Burning off. Then last minute tutorials in how to read departure boards. She's a very well-travelled person, but always with me, or with a school trip. Is it enough?
Upstairs to the last piece of ground we can walk together, and the moment can be put off no longer. An eerie blue light emanates from the Departure sign and the quiet horror of the moment unspools. Dead Mum Walking, there is nothing to do but keep walking those last steps together. Myself and boyfriend as an afterthought pose for photos and I think "I knew her before she was born."
After putting him in a taxi home there is no restraint to the maternal howling. All the way home. It will never be this bad again, I know. We will both travel, we will have other good byes, but none as bad as this.
Around the corner of memory I see my own departure, 27 years ago on the road to Europe as a 25 year old. I left Perth by train, to meander across the nation on the Indian Pacific at forty kilometres per hour, then catch an Aeroflot flight to London after spending time in Sydney with my brother. My mother and I have to say good bye at the charmless East Perth train station. The train begins to pull away, and she starts to run, still waving and we wave until we can no longer see each other.
We inflict these farewells on each other, and that is the gateway to adventure and travel and independence.
Yesterday my daughter and I had a Viber phone call while she ate a sandwich in Regents Park. The ravens were cawing and edging in for a bite. The weeping willow draped elegantly into the water and the bilious green of the English Summer lawn was close enough to touch. I have been parenting by Facebook Messenger for at least the last six months so in some ways it is business as usual. The connectivity we enjoy now is a parent's dream, only now she is half the world away, not out the back in the studio flat.
After getting back from the airport, I creep back into bed, still weeping. I wake some hours later, and darling husband asks me how I am. I can't answer and he just hugs me. I get up and concoct a makeshift cold pack out of frozen blueberries into a freezer back and place them on my eyes. I have a full day ahead of me, and my life is returning into focus.