Sunday Blog 90 – 25th June 2023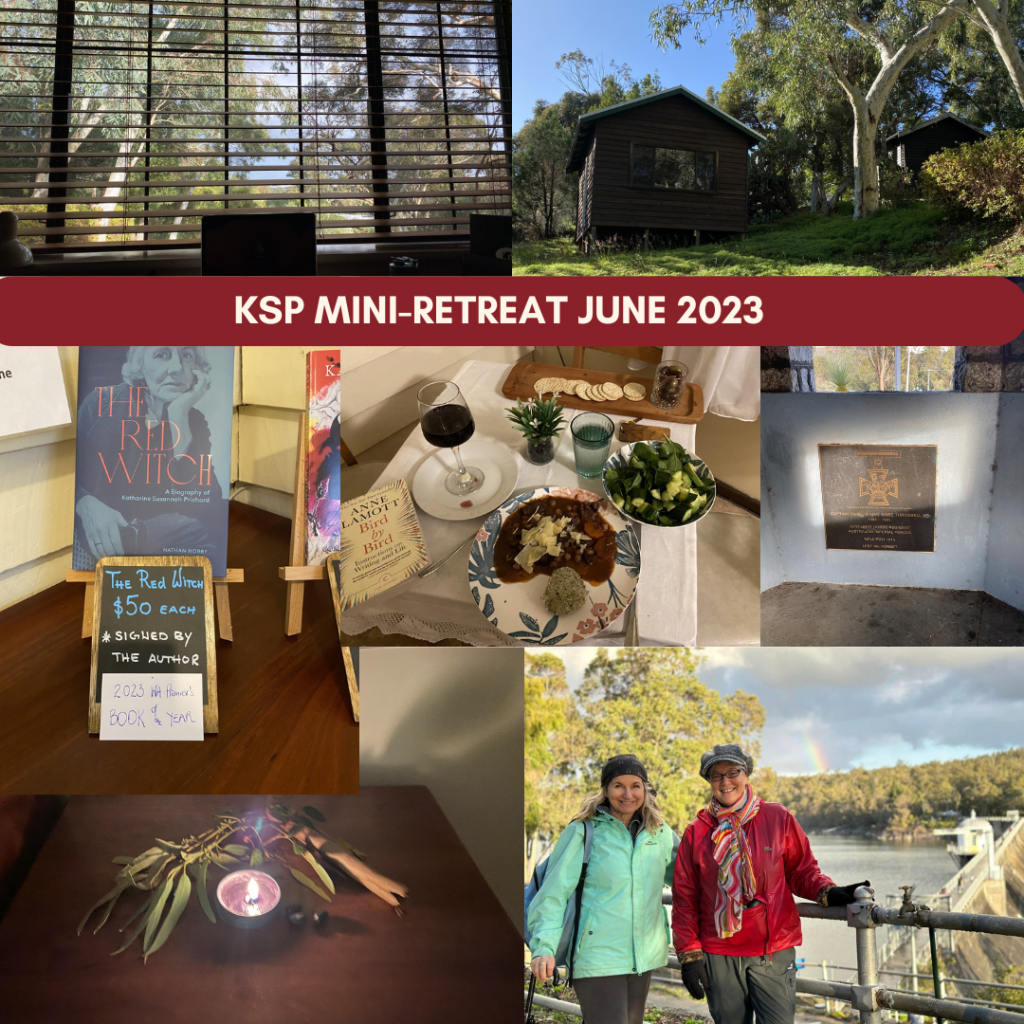 Thursday feels gratifyingly far away and long ago now. I've even lost track of the days on this three-day, mini self-guided writing retreat at KSP. For the uninitiated, KSP stands for Katharine Susannah Prichard, one of Australia's best-known authors. Born in 1883 in Fiji and raised in Victoria, an inveterate traveller, she eventually moved to Western Australia in 1919 with her husband Hugo Throssell. The KSP Writers Centre is their old home, and it offers cabins for hire, and I was able to use a voucher from when I left Health Consumers' Council to cover some of the cost.
I've been staying in a very cosy and comfortable writing cabin styled on her original writing cabin (see my cabin to the left, hers to the right, top right hand picture) but with the marvellous addition of a reverse cycle air conditioner and ensuite bathroom. My window, like hers, looks over the Perth skyline (top right image).
I didn't want to come here until I had read Nathan Hobby's biography of her, The Red Witch. Sensitive to the problem of human suffering, KSP settled on communism as the answer. Nothing that happened in Russia was ever to dissuade her from that right up until her death aged 86 in 1969. The neighbourhood dubbed her the Red Witch because of her communist beliefs and it has stuck.
I feel her all around me, in the house itself, in the gardens and surrounding streets, some of which bear her or Hugo's names. Each morning after I did my yoga (see yoga altar with gifts from the garden, bottom left), I lit incense sticks outside my cabin door for her. I mean, I wanted to light them inside but didn't want to risk setting off any fire alarms. Generally speaking I have been here alone, bumbling around trying to work out where light switches are, keen not to set off any burglar or fire alarms.
How lonely it must have been for KSP after her husband Hugo succumbed to the depression that had plagued him since his war service in the First World War. She was travelling in Europe when he completed suicide in 1933, and found out by reading about his death in a London newspaper. I took time to stop by the mournful monument to him erected in 1954, twenty years after his death (middle image on the right).
I had a solitary meal in her kitchen on Thursday night – middle picture – beef and red wine I cooked to bring with me. Because no retreat for me is complete without a solid focus on food.
Friday night I was thrilled to find out Nathan Hobby had won WA Premier's Book Of The Year for The Red Witch. I adjusted the signage in KSP's kitchen next to his book the next morning (middle left image).
Being an extrovert writer can be difficult for me but my solitude was relieved each day after a suitable amount of writing time by KSP local and friend from my youth, Trish. We walked, talked, ate and she even lent me a cache of my old letters to her to pore over. There's one mammoth letter from Thessaloniki where I discover I'm pregnant and adjust my plans for returning to Perth in 1998. What a ride.
And so it's time for me to return to Perth 2023. I will leave Steven King the final word on writing retreats-
I suppose you might end up in a version of that sylvan writer's colony in East is East: your own little cottage in the pines…. If you got a chance to participate in a deal like that, I'd say go right ahead. You might not learn The Magic Secrets of Writing (there aren't any – bummer, huh?) but it would certainly be a grand time and grand times are something I'm always in favor of.

On Writing: A Memoir of the Craft. Steven King (Chapter 14)