Sunday Blog 107 – 22nd October 2023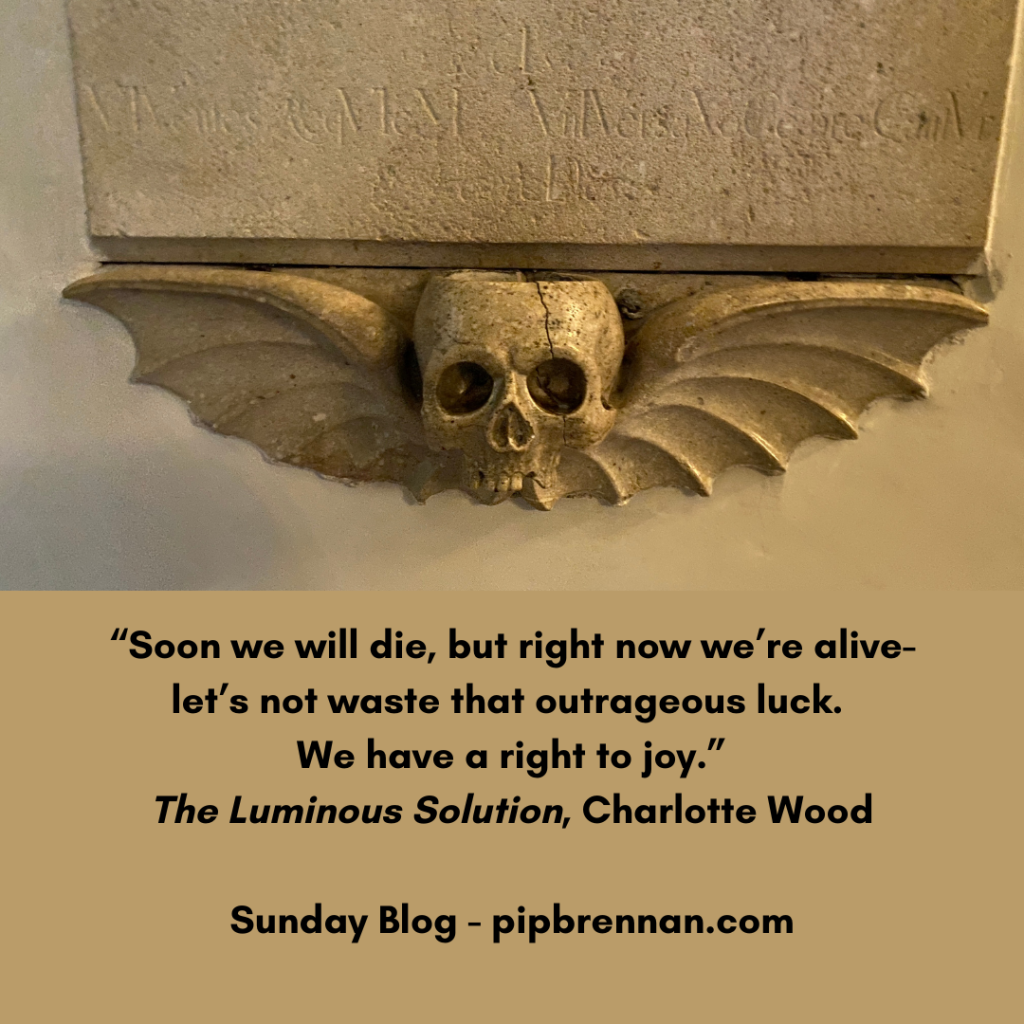 It is perhaps hard to be cheerful at the moment, so here is some dark warmth for your Sunday. This holy water font was spotted on my holiday in a Salzburg church, a ghoulish flourish on the way out. Dip your finger into the skull for a dab of holy water. Make a little cross from head to heart, shoulder to shoulder. Perfectly normal.
At the time this holy water receptacle was created, sex was taboo but death was not. This same church had any number of skulls and other deathly paraphernalia in its many artworks and monuments.
Surely this taboo is now reversed, and death is largely airbrushed out of our day to day life.
Since December of 2022 I have joined my nonagenerian mother's care team. My role was cooking. I like to work to my strengths. I had ditched the incredibly demanding day job which meant I could don the apron on Mondays and Wednesdays. Indulging Mum's every culinary whim was one joy, but talking about All The Things was another. Perspective is something a 96-year-old has plenty of and includes the taboo topic of our society, death.
For example, one day Mum wheeled herself back into the lounge room singing "I will love you until the day I die." Then looked at me and remarked, "not much of a commitment, though, is it?"
On another occasion a family member came to visit, and asked after her health. "Well, I'm walking around to save funeral costs." It took a while before the guest composed herself enough to give her coffee order.
I took the creepy photo of the holy water receptacle on a recent Europe holiday where I hoped against hope all would be well. Mum's health took a bit of a dive, but she rallied before I got back.
She faltered again when I got back home and we've been thrust into chaotic, timeless weeks in hospital. My carer's role has been cast adrift. During my first visit to her local grocery store without a shopping list for her weekly provisions I had to put on my dark glasses so I could weep largely undetected.
And then tonight we dined in her hospital room, picnic style. I'd brought in paper plates and extra forks. We shared potatoes, mushroom gravy, thickly buttered white bread. And each other's company. A luminous joy moment of being right here, right now.