Sunday Blog 88 – 11th June 2023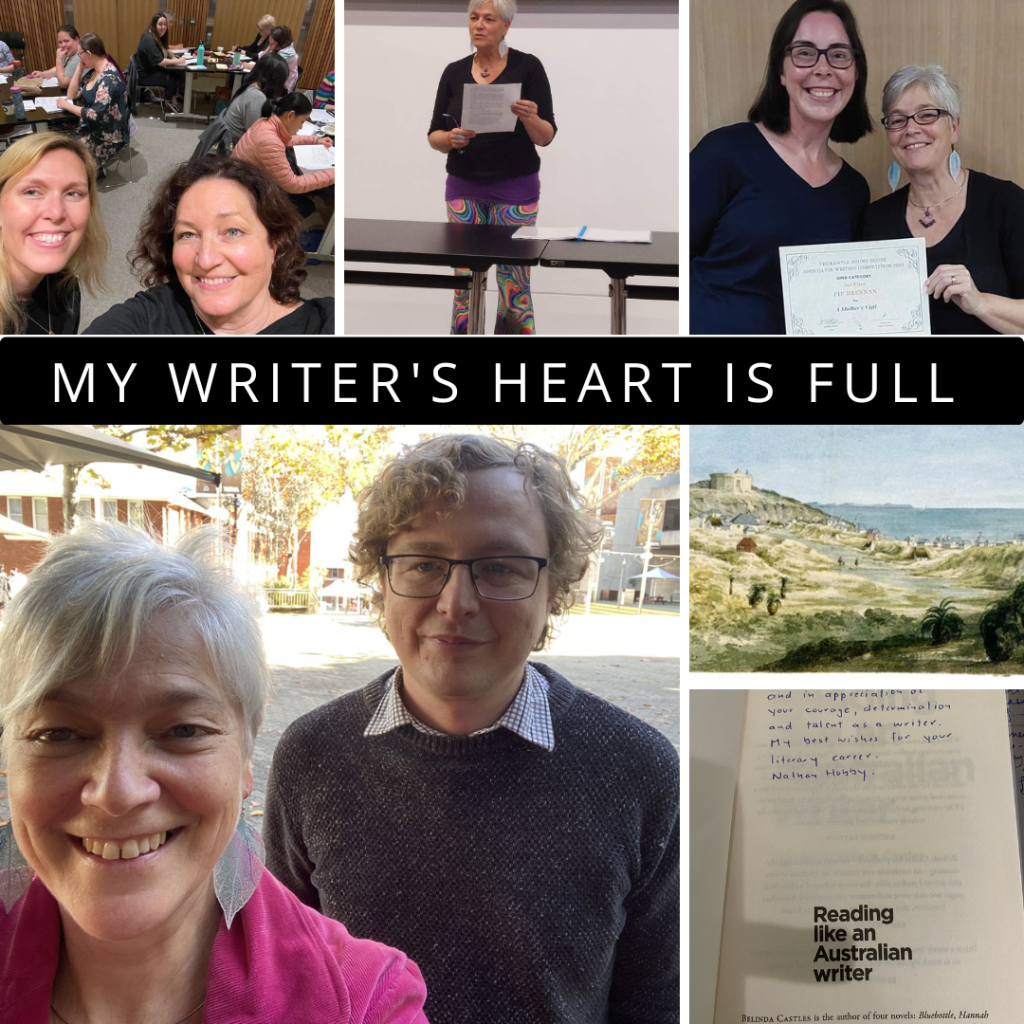 There are Ideal Days we can visualise, and yesterday would have to be my Perfect Writers Day. A bittersweet ending, an excellent writing course, receiving my prize for the John Gavin Writing Competition and dinner with my daughter and sister to close the day.
Bittersweet endings – the biggest picture is me with my Emerging Writers Program Mentor, closing out our two year partnership. Nathan Hobby has been encouraging, challenging and true to the end. He even gave me a book and inscribed it so kindly.
Excellent writing course – I retreated to the State Library for a quick sob after saying good bye to Nathan, before heading confidently to the Night Parrot Press Flash Fiction course on level floor of the State Library. Only to realise I should have been at Perth Library! I scampered there breathlessly and was welcomed warmly. If you squint you might be able to see me at the back of the room in the picture with facilitators Laura Keenan and Linda Martin from Night Parrot Press. Luckily my sister saved me a seat near the door for me to slip in late. It was an inspiring, hands-on workshop and they worked us hard with prompts to try our hand at flash fiction.
Receiving my prize – I have previously shared my joy at placing second in the John Gavin Writing Competition and my sister and I went from the flash fiction course to the award ceremony. We met others there including my husband, daughter and another sister. I got a chance to read my entry out, A Mother's Vigil. I met again with Brooke Dunnell, also pictured, judge of the Award and another of Perth's generous, talented writers.
Dinner with my sister and daughter – no pictures, just happy memories of a night celebrating creativity and all who sail in her.