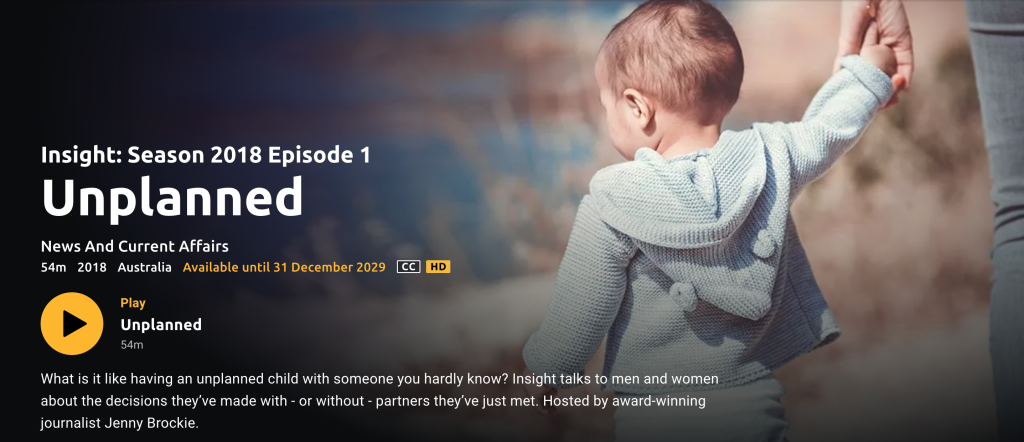 Sunday Blog 6 – 3 October 2021
"It will involve a free trip to Sydney", I told my daughter. "All we have to do is air our dirty linen on national television."
Luckily, I had her at "Free trip to Sydney."
Clearly, I'm writing about long, long ago, in a pre-Covid world of 2018. Somebody from SBS Insight had read one of my Facebook posts which was on the topic of unplanned pregnancies, and she had replied and asked me to contact her. They were exploring the topic in an episode entitled "Unplanned"
Our dirty linen was that I fell pregnant with my daughter in 1998 on a third date with a tall (as in, 2 metres tall) Greek man when I was living and working in Greece. We did date for a while and even tried to make a go of it, but while we have stayed in touch over the decades essentially I have almost always been a solo mum.
After my first conversation with the SBS Insight researcher, who sounded interested she called me back and asked me if my daughter, then 18 would also come on the show. It was a free trip, and we did.
The travel together to Sydney was fabulous, as always. We sat in the studio for the filming which took two hours, only half of which made it into the program. At about the one hour 50 minutes mark into the filming we began to feel quite uncomfortable that SBS Insight had thrown their money away on us as they still hadn't asked us a question. We hadn't been bored in that time – we had been enthralled, watching the stories unfold. These were new and raw stories, with small babies or young children. We had been invited onto the show to give a longer-term view of the unplanned pregnancy scenario.
If you want to watch the episode we appear at the 47.23 mark of a 50-minute episode, and everything we said made it onto the film.
I certainly questioned why I had wanted to be on it, and also drag my daughter into the dirty linen airing too. But something came out of it I hadn't anticipated. One of the featured stories – Catrina – with pink hair – messaged me afterwards. She said I gave her hope about raising her daughter alone. Ah, the power of the stories we share.