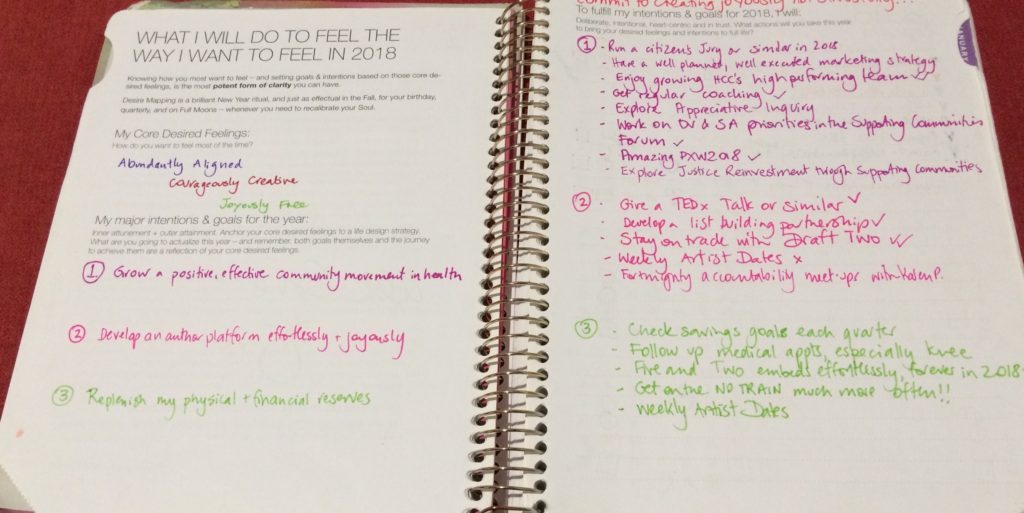 So here it is – the end of 2018, almost. There isn't really too much time left to scrabble in many last-minute achievements, so it's time for The 2018 Reckoning.
This year was my fourth using The Desire Map technique and annual planners. Desire Mapping is a subtle but to me very useful method of thinking how you most want to feel, and then setting goals from that basis. So for example, if you think about how you want to feel once you land the job, or finish the dissertation, or move house or buy the dog…these feelings give you strong clues about what's most important to you as a human. It also allows you to get creative about how to bring those feelings into now. These are called Core Desired Feelings.
My Core Desired Feelings
This is how my Core Desired Feelings have evolved over the years:
2015: Abundant, Creative, Focused, Free Joyous.
This was my first year Desire Mapping. I didn't use my journal for work appointments, so it wasn't quite "alive". I started in March.
2016: Creative, Focused, Free, Joyous, Mindful.
This was my first full year Desire Mapping where I used the journal each and every day. On the left-hand column would go work appointments, on the right-hand column the to-dos for the day job. But the Core Desired Feelings always reminded me that my writerly ambitions always had space in my life, and weren't forgotten.
2017: Congruent, Creative, Free, Joyous then Abundant, Congruent, Creative, Free, Joyous.
I figured half-way through the year that my finances needed a bit more of a kick, and that it was time to put Abundant back into the mix. During 2017, I did a Women in Leadership Circle with the fabulous Sue Rolinson. One of the many valuable things we did was create a Vision Statement for ourselves.Worth the course fee alone!! Mine is: 
I am a courageous, creative woman who compassionately disrupts the status quo.
2018: Abundantly Aligned, Courageously Creative, Joyously Free
After making that Vision Statement, I realised that Courage was missing, and I needed to add it! However, you're encouraged to have no more than five Core Desired Feelings. With a bit of adjective/adverb collocation, I was able to sneak it in! Note that creative, joy and free are always, always there.
2018 Big wins
Having three overarching goals, with smaller steps clustered underneath
Getting my first novel manuscript ready enough for two competitions
Starting out the year at 75 kilos and finishing at 68, and incorporating the Five and Two/ Intermittent Fasting as just part of life
Putting together an awesome team at my workplace
Speaking at the March Stories from the Heart event
2018 Some important but not big wins
Sticking with the regular coaching
Reaching out for help with the manuscript, and getting it! So when I didn't win either competition, I had somewhere to go next
Running Patient Experience Week events again, and adding in World Kindness Day events
Some areas for growth…
Weekly Artist Dates. They were not weekly, I think I did about three all year
I did not manage to manifest a Citizen's Jury in 2018. I thought I was so close (I probably wasn't) and was heartbroken when I realised it wasn't going to happen.
Savings goals are still a work in progress. OK, so I am exactly where I started with one account, but $1,500 better off with another. So that's something I suppose. And all debts are largely gone.
And now, for 2019…
I'm excited to be giving myself a mini-retreat to Nathaneal's Rest to walk the labyrinth and think about 2019 Core Desired Feelings. I already have my juicy journal to get started with…
I hope that you have found some time in 2018 to think about what's most important to you, and do the things that really light you up. And that you have fabulous stationery to help it all unfold! Happy New Year xxx