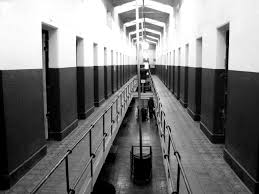 It was early morning, like before 5am and I was having one of my usual very early, scratchy-eyed tired but still awake moments, and listening to the latest episode of the Beautiful Writer's Group coaching call. I've been a member now for several years, keeping in touch with a supportive online community of writers as I continue eking out my first novel. Writing in the dark. Painfully slowly!
This month featured a new segment where the co-hosts, Book Mama's Linda Sivertsen and the Organised Artist's Samantha Bennett read out from their latest pieces of work. Samantha read out a powerful extract of being in jail – the jail of a salaried job – and highlighted that the jail door is actually open.
This was hitting my buttons already. 2014 was the year I was going to make the break from salary to business ownership. I was very happy to jump first and ask later and wrote many blogs about this time. At that time as well as being fearless I also regularly felt my guts roil with cold terror about how on earth the mortgage would be paid, among other things. Another slightly awkward reality was that I wasn't sure what I was selling, and for how much.
The period of insanity/ bravery coincided with being 49 and having just self-published my memoir (respectful trigger alert applies). It was my line in the sand year where I declared publicly that I was an author. Once declared, never retracted. That part of my pre-50th birthday crisis was going just fine.
But Battleship Business Ownership? Not so much. Even though I never let any uncertainty hold me back, and just kept steaming ahead into the fog, fate had other plans for me. While still wrestling with the next tranche of online business training that was going to give me the 6 step fool-proof method to start earning money in my business right away, a job opportunity torpedoed the battleship and leapt out, onto the life raft of this opportunity and watch the battleship sink with alarming rapidity. I found it hard to watch just how easy it was to abandon my entrepreneur dreams.
To be fair, it wasn't just any old job. This was the sort of job that set off a light bulb in my heart. Weird, I know, but that's what it felt like when I heard about it and mentally tried on applying for it, getting it. The job was to run my state's not for profit patient advocacy agency. Tilting at the windmills of entrenched power and privilege, turning the dial back towards the needs of the patient, away from the voracious, insatiable needs of the service or hospital. That life raft became an actual job which I began in January 2015.
Real Prisons…
Fast forward three years to me listening to the Beautiful Writer's Group, listening to the reading likening salaried work to being in prison. Just two days earlier my salaried job had taken me to actual prison, to hear from prisoners about how they experience their healthcare services. First, a female prison, and a group of 12 articulate, diverse women talked on behalf of their fellow prisoners. We sat around a Board Room table and listened to these Peer Support Workers, took notes and I plotted what I could do without further swamping our small and highly dedicated advocacy team.
The next visit was to one of our male prisons, where I sat at the front of a room of more than 35 male prisoners, also Peer Support Workers. I was up the front of the room in a row of bureaucrats, myself and my colleague the only non-government staff there. I had worn my Birkenstocks as part of my non-profit uniform, hoping the prisoners might understand the dress code.
It was like a dull Q&A panel, although we were asking the questions.
I tried hard not to stare at the many wonderful, colourful and intricate tattoos – because, rude – although there were some truly eye-catching ones on arms, legs and faces.
"What's good about the health service?" One bureaucrat asks. Crickets.
"What could be improved?" A babble of voices and the conversation quickly builds. There were little hints – sentence lengths of 20+ years referred to, feedback on how the health services, especially the methadone program were this time around compared to the last swing – of crimes that might have been committed, why they might be here. One prisoner with a rat-tail and self-confessed history of meth usage kept chiding his fellow prisoners as they listed the various failings and gaps in the health services. "Well it's prison, whaddya expect?" he said, more than once. Currying favour with the guards?
Another more mature prisoner reflected "this is good for some of the boys. Somewhere to sleep. Three meals a day." Yes, and again the distressing peeking through of what is behind many of the faces, hidden in many of the stories of nastiness and evil. Absolutely entrenched disadvantage of the "give me not poverty lest I steal" school.
I am reminded of my own experience undertaking a victim offender mediation conference more than 6 years ago, my last reason to visit a prison.
The Day Job
It is always a blessed relief to hear the prison's front door locking behind you, leaving you out in the fresh air, and for the next few days I basked in my freedom. Sat on my porch, listened to the birds, watched the trees moving in a gentle breeze and occasionally saw the faces of the prisoners waft across my mind's eye.
And I pondered my other goals that haven't quite made it to the top of the 2018 goals list – of doing something in the restorative justice field, helping the justice reinvestment movement take hold. Goal – a word so close and yet so vastly different from gaol…
But am I in prison because I work rather than run a business? I don't think so. Do I want to work less and write more? Hell yes. Do I want a Writer's Life? Rather than the life of a hard-working not for profit evangelist whose writing time is squashed to a corner of the weekend? Hell yes. But maybe not just yet…