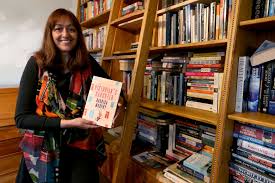 I have recently signed up to to Marie Forleo's B-School, and was inspired to refresh my Fabulous Women Podcast. This latest interview features Perth Author Rashida Murphy, who has recently published her first novel, The Historian's Daughter.
The book's blurb reads "In an old house with 'too many windows and women', high in the Indian hills, young Hannah lives with her older sister Gloria; her two older brothers; her mother, 'the Magician;' a colourful assortment of aunts, blow-ins, and misfits; and her father, 'the Historian.' It is a world of secrets, jealousies, and lies, ruled by the Historian but smoothed over by the Magician, whose kindnesses and wisdom bring homely comfort and all-enveloping love to a ramshackle building that seems destined for chaos.
And then one day the Magician is gone, Gloria is gone, and the Historian has spirited Hannah and her brothers away to a new, and at first bewildering, life in Perth. As Hannah grows and makes her own way through Australian life, an education, and friendships, she begins to penetrate to the heart of one of the old house's greatest secrets-and to the meaning of her own existence."
The Magician and the Historian – why those names?
The magic and beauty of having a podcast is that you can ask authors about what they meant. The Historian is the father figure, and the Magician is the mother figure. I was still intrigued about this one month after reading it, and Rashida shared her insight as to the detachment of both parents, although so different.
What about the sisters, Hannah and Gloria?
The warm relationship between the sisters Hannah and Gloria is cut short when Hannah moves to Australia, and the impact of living apart tells on their relationship. Rashida confirmed this is an enduring theme in her writing, and that no matter how long you live in a country and develop new relationships, you can never replace the sibling relationships where you have lived each others' history.
Are "extra branches" on a family tree a key theme?
The opening line is "The hills towered, range upon range, behind the house with too many windows and women" Rashida shares the insight that as she grew up there were silent women who were visible but whose stories were never told. This novel provides one story at least for one of the silent women inspired by her childhood in India.
I wonder if you could share something about the experience of writing this novel?
Rashida talked about the germ of an idea of this novel – actually the Iranian Revolution – which would not let her alone. It transformed into The Historian's Daughter over several years and drafts.
I loved the insight she shared about writing about places – she needs a place to become strange to write about it, and all the Perth scenes of the novel were written in Shimla. I love that!
And are you able to talk about what's next?
Another germ of an idea is currently taking shape. Despite swearing off novel-writing, this draft is already up to 25,000 words… We talked about how you have to be crazy to write a novel, but at some point it starts making sense and then you can't leave it alone!
Meet Rashida
Perth people can meet Rashida in person as she will be at Duncraig Public Library on 5th April at 6pm. Copies of Rashida's book will be available for purchase and signing on the night. Check UWA Publishing's Facebook page or call the City of Joondalup on 9400 4751.
I hope you enjoy this Podcast. Please feel free to like and share!