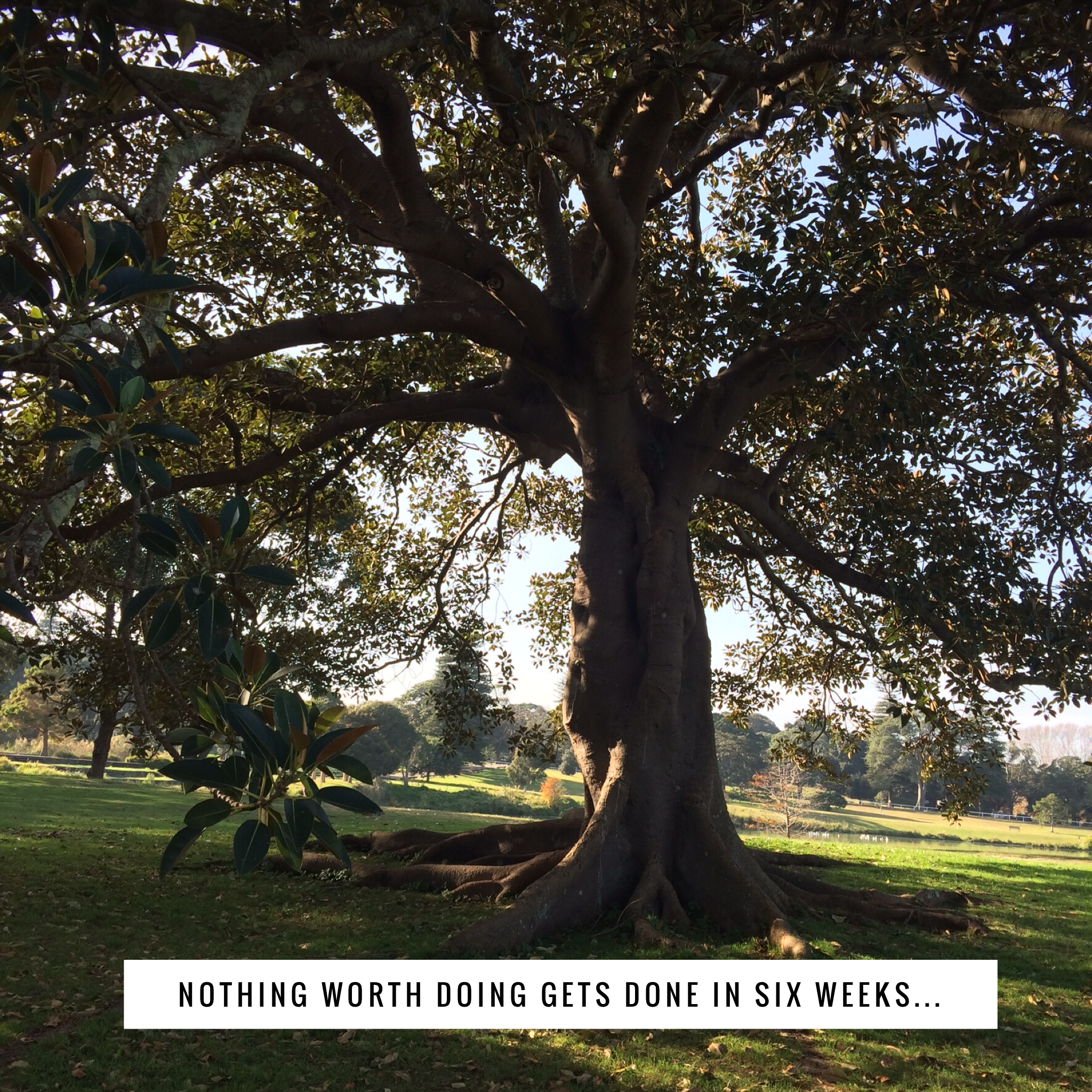 Do you know how it is sometimes, where you keep on getting the same message? Like the red car syndrome, where once you purchase a red car, suddenly you see them everywhere? The red car message for me has been all about time. Things worth doing, take time. Time. Lots of it.
The same message kept appearing in so many unrelated podcasts, blogs and conversations this week that I had to admit, this was the red car message for me.
Nothing worth doing can get done in six weeks.
There was a time, three years ago in fact, when I thought I could get a business going in six weeks; "Six Figures in Six Weeks" was one of the many online courses I had signed up for. Well I had my doubts, but I thought the smart thing to do was to learn from other entrepreneurs, reduce the amount of time it took to learn how to grow your business. I wanted the quick and easy, paint by numbers, tried and true way to gather a list of people's emails, adoring Facebook and Twitter etc. followers, and then magically become a hugely successful online entrepreneur. I believed that all I had to do was to understand how other entrepreneurs had done it, heck even use the same scripts as they did, and somehow, magically I would be able to walk away from paid work and still be able to meet all my expenses, within, say, six weeks.
I was already lost, because the business coach idea was just a diversion from the sheer terror of publishing my first book. I could have gotten behind my book and done that interview series on trauma to triumph, but instead I wimped out, opting for an Abundance summit. And perhaps being so lost encouraged some magical thinking. I would commonly be found up at 3am on the Q&A call with another American coach calling their Pied Piper tune about how to build a business instantly.
Here's the deal
There are no quick and easy steps to build a business. There is no quick and easy way to find your voice and market yourself an entrepreneur, a writer, a creative. "Six kilos in six weeks" sounds almost identical to "six figures in six weeks", and both are a lie. Six week weight loss programs have not stood the test of research, as study after study indicates all those kilos will find their way back onto your body after the diet, most likely joined by a few extra ones.
Almost nobody who starts a business will be earning anything like six figures in six weeks, unless they have been at the game for more than 15 years, building a profile through face to face interaction and plain hard graft. It is the usual story of the 15 year overnight sensation.
Tim Grahl said it well –
Social media is not a place to "grow your fame." It's a reflection of the fame you've created elsewhere.
Sure, you need to have a website, social media presence etc. so people can find you, but then you need to get out into the world and work hard in building up your "offline" fame.
Another of my red car moments was listening to Marianne Williamson talk about grief on Marie Forleo's weekly program. Marianne said that the point of grief is not to anaesthetise ourselves to it through use of pharmaceuticals or other numbing substances, buying more "things", and ignoring the feelings. The point is to feel the feelings and take them as our teacher.
To continue the analogy with being an entrepreneur, or a creative, the whole point is to find out for yourself what success is going to look like. No-one else's scripts or formulae are going to get you there.
And, it's going to take time.