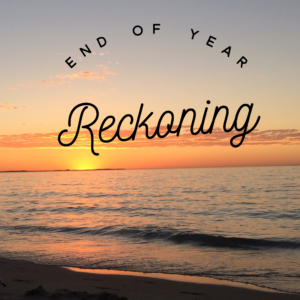 It's that time again…
You know how Facebook does that thing, flashes up a memory that you can then share, or not… Last year's Resolutions – or rather Intentions written in December 2015 showed up with the invitation to share. Of the four Intentions, none were actually reached, although much work was done towards them. I had no urge to press the "share" button.
But, it's Reckoning time. So in my own time Facebook, I am sharing this image.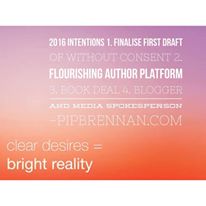 So I didn't get to finalise the first draft of my novel, then called Without Consent, now titled Shakespeare Street, nor did I develop a flourishing author platform and due to lack of completed manuscript I did not get a book deal. I certainly did more media than last year and there was at least one blog that I felt hit the mark. But still. Awkward.
I said I would support myself through getting regular coaching (tick), keep meditation and doing yoga (tick, especially yoga), plan regular Artist Dates (some months better than others), nurture my relationships (tick), write, write, write (tick, but also lots of wasted time on Facebook, procrastinating etc.), actively seek media opportunities (tick).
So here's what I did get up to in 2016:
Finished a Six Months to Write Your Novel course, completing about 75% of the Without Consent/ Shakespeare Street draft. And while I have now deemed that draft 0.1, followed on by somewhat chaotic draft 0.2, I showed up to that course. I learned. I realised that I really want to write literary fiction. You can read more about the ups and downs of the Novel Project here.
Managed to get an upgrade on the charitable status of the not for profit organisation I run, that frankly is a bit of a game changer.
Became a Desire Map Facilitator and ran a few courses with awesome women and shared around the goodness of Desire Mapping. (I have been a weekly devotee of Danielle La Porte's Desire Mapping for two years now and can honestly say it has really changed my life.)
Got invited onto an inter-governmental committee in my state which means I can advocate beyond the health sector for the every day person who doesn't get a say (and may I say, it was all in the Vision Book).
Attended a writing retreat in Delphi, Greece. (Also in the Vision Book). Coincidentally in Delphi learned about The Writer's Studio which IS the right writing school for me. Did the pre-requisite Unlocking Creativity course and am now into a First Draft Novel course (hence the earlier drafts now deemed 0.1 and 0.2). It's bliss.
Got myself an NLP Practitioner certificate.
Saw my daughter graduate from high school, psychically intact and on the road to whatever is next.
Became the household bread-winner, to keep on pushing out on those gender boundaries. A house-husband (especially a renovating one) is the Best Thing Ever.
Developed a regular yoga practice.
Most of which wasn't even on the List. And I am trying to do two things at once – run a not for profit AND write my first novel. So, you know. Ease up.
This luscious Christmas holiday break I have spent some time doing the Marie Forleo Thang of reviewing my 2016 with these three questions:
What's one thing you did that you're proud of?
What's one mistake you made and the lesson you learned?
What's one story you're willing to let go of before the New Year?
And also looking at Danielle La Porte's Five Questions for your Deeper End of Year Review:
What didn't work?
What did work?
What were the highlights?
What does the new year look like if it's full of what works?
Bonus Q: What do your highlights say about you?
So now it's time to declare my 2017 Intentions.
Not for profit – hang out with more clinicians rather than bureaucrats
Not for profit – ensure at least one project idea develops into a fully-formed service.
Creative life – finish the Novel First Draft course by September with a manuscript good to go
Creative life – re-institute regular Artist Dates
Both – Showing up online – blog at least monthly for my work as well as for my author website
Personal – Have at least one overseas holiday and other travel when I can
Over to you
Do you love this time of reflection and thought? Are you going to set yourself any Intentions/ Resolutions/ Grand Dares? Maybe 2016 was not your year. So many people I know have found it a testing and trying year both at the awful, train-wreck macro-level of Brexit and Trump, as well as personally.
If you want to have a try at Desire Mapping your 2017 with me, you have the chance to think about how your Goals/ Intentions/ Resolutions/ Grand Dares will make you feel. Those feelings are important. They show how you most want to feel and can be identified, named as your Core Desired Feelings. These feelings can become your compass for your year. If you want to go through this process with me, my course link is here. Or, you can discover more about Desire Mapping for yourself.
Here's to a MUCH better 2017 xxxx