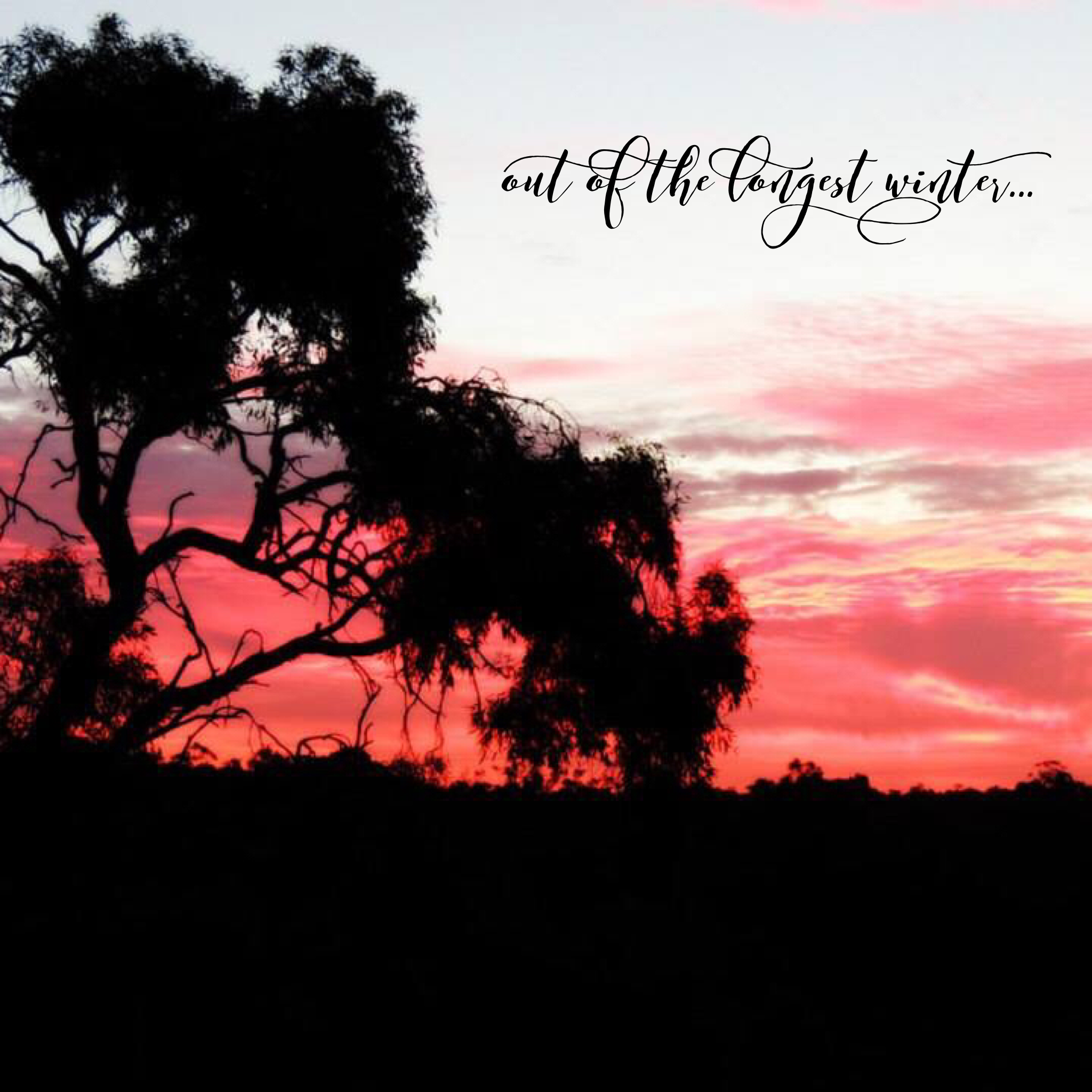 I have vowed never ever to travel to Europe as early as July. In my hemisphere, Winter is technically from June to August, and while traditionally our Winters here in Perth Australia are not that bad, this one has seemingly gone on for ever. And Ever. And Ever.
After three weeks in Greece in July this year, one of which was a blissful week of a writing retreat in Delphi, I returned to Perth, escaped jet lag and felt smug. Then the rain and Winter stuck around for all of August. All of September. And now, a week into October and today is another perfect inside day with endless rain. Even an ex-patriot Canadian recently remarked to me that she too had found this Winter endless and cold.
The Second Winter of My First Novel Project
2016 will be the second year I have declared with incredible bravery that I am writing my first novel. The writing project is a drumbeat of anxiety, setbacks and frustrations waxing and waning audibly in the background of my ridiculously busy life. It has been an endless circling around of what I think I need to be doing, what I am doing, what must be thrown away so something can be built from its ashes.
I spent six months doing an online Write Your Novel course. At that point it was entitled "Without Consent". Based on my memoir, the core idea of the novel project is to write from both the perpetrator and victim perspective. The inspiration came from an agent I met with and the idea has taken hold.
So the Six Months to Write Your Novel course came and went, and I dragged the "Without Consent" idea along for the ride. While I had some misgivings about whether the course was really the right fit, I ploughed on. It certainly helped a lot, and I worked hard at it when I could, but at the end of the six months I had only gotten three quarters of the way through the first draft. And the amount of commenting on fellow students that was required was completely overwhelming.
After more desultory mucking around after the course finished, I declared Draft 2 open. By then I had come to the realisation that the course had taught me how to write best seller genre fiction, or preferably a young adult fiction. Only I don't want to write a best seller. I want to write literary fiction. While it was a useful if drawn out process working out what I didn't want, what I wanted to create still felt elusive. It seemed that when writing literary fiction, you were on your own.
I then floundered on for more months, setting completely unrealistic deadlines for finishing draft two, given my heavy day job. I got terrifically excited after reading Mothering Sunday for Book Club in June. "That's the kind of book I want to write!" I thought excitedly. I planned to weave the two storylines in and out, back and forwards in time, creating something circular, even labyrinthine and wonderfully clever. By now it was going to be a novella called Shakespeare Street.
During the Delphi Retreat in July I didn't really make much progress on the draft, although my writing skills were challenged and expanded. I made another little breakthrough about how I was going to edit and once again, made very desultory progress. And… bit by bit the focus and the certainty faded away.
There was also a computer malfunction in this time, and a return to Scrivener which I often bore people with but had somehow stopped using.
I also got excited when I read the term "roman a clef", to quote Wikipedia "French for novel with a key, is a novel about real life, overlaid with a façade of fiction." Then of course I had to read The Sun Also Rises and realise all over again what a blokey bloke Ernest Hemingway was and how I possibly didn't really like him all that much and certainly didn't like bullfighting. Or fishing.
None of this seemed to be really "getting the pants on the baby". But I have clung to the suggestion of a fellow Delphi Retreat attendee, and have now discovered The Writer's Studio. I started an introductory course this week and finally, finally feel that I am getting the sort of assistance I need to write something unique. Not genre, not best seller, but something unique. My unique.
So I am heading, "once more unto the breach" as Shakespeare himself would say, with Shakespeare Street/ Without Consent rattling along behind me.
Nobody said the creative process was straightforward.