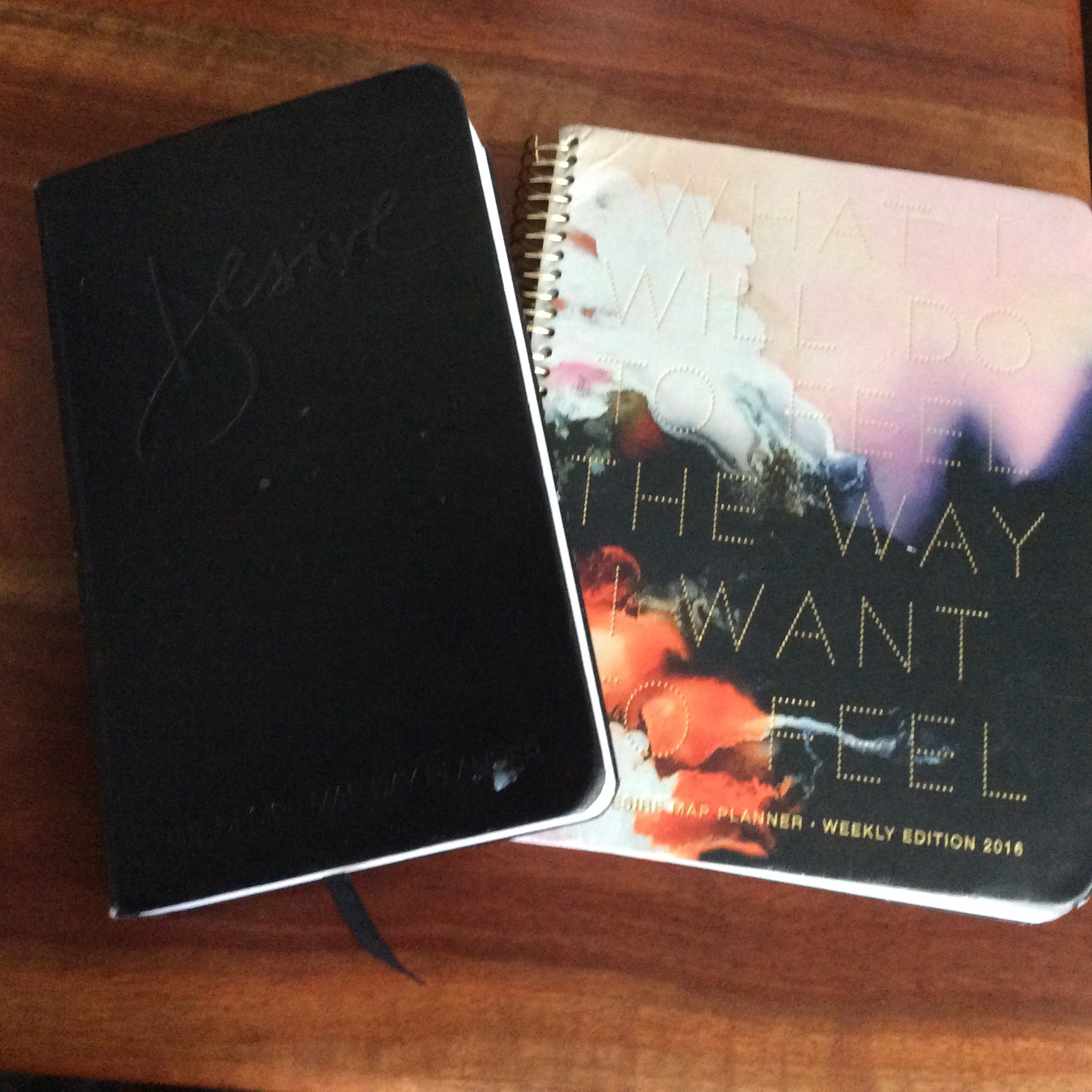 For nearly two years now I have been Desire Mapping. Here on the left are my two Desire Map Journals. The spiral bound delicious-looking one is 2016's Desire Map Weekly Planner. Desire Mapping is a process developed by Danielle La Porte. Simply put, Desire Mapping is uncovering the feelings (up to about five) that capture the way you most want to feel, and then using those feelings as a guide for your goals, your intentions – your life. The way you most want to feel is known as your Core Desired Feelings. (CDFs for short, for one must have an acronym) Using Danielle La Porte's Desire Map process, I have whittled down all the possible Core Desired Feelings for me to these five:
Creative. Focused. Free. Joyous. Mindful.
Each and every week in my Desire Map Journal I write these Core Desired Feelings at the top of the week's page. Each time I write them again, I am reminded of what's most important to me. Then I commit to three things I want to do this week (and these things will help me feel the way I want to feel. Clever, huh?). There is a space for me to write my appointments in a left hand column, and my to-dos in the right hand column. For some reason this fills me with joy, and also, for someone who likes to pack in loads and loads of appointments, the act of having to write these out every Sunday night reminds me of the constraints of time, and the right hand to-do column might have to remain empty, if there are too many meetings. This weekly ritual really helps me to feel connected to something magical and free even as I work very, very hard in my day job. And sometimes, when the wind is blowing in the right direction, I come home and write more of my novel, too.
Apparently we over-estimate what we can get done in a year, and under-estimate what we can do in ten. Somehow this Desire Map Journal, and the practice of writing my Core Desired Feelings keeps me anchored to this reality, to this dream of walking the path as long as it takes to reach the goals that are important to me. Somehow, the magic of starting with how I want to feel, rather than what I want to accomplish, helps me to stay true to what I want to do.
So I am beyond excited to announce my first Desire Map Workshop as a Licensed Desire Map course facilitator. Being licensed means I can share this goodness around. For this workshop, we will be diving deep and uncovering Core Desired Feelings. If this sounds like something you would like to be part of, you can book onto my first course, on Sunday 26th June at Tarts in Northbridge.
In August 2016 I will run a Level 2 workshop which helps you to set your Intentions using your Core Desired Feelings as your true North. I can't wait to share all this with you!