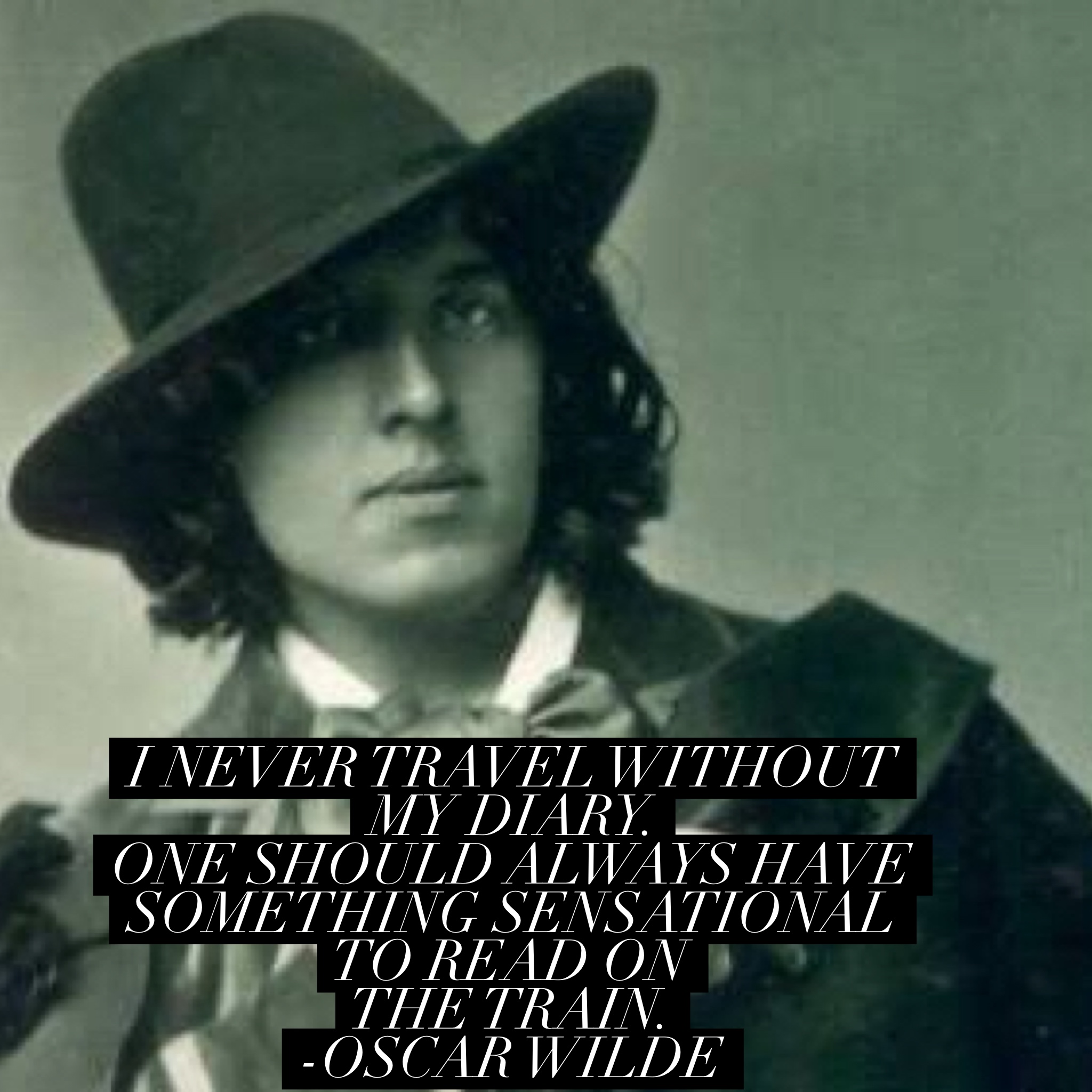 With just a four day weekend in Bali, I couldn't possibly justify more than a cabin bag. I'd already negotiated with darling husband to bring the laptop so I could keep working on the novel. And I'd slipped in my writing journal and writing reference file I need to have beside me. The writing journal is for angst debriefing, a sort of mini-Morning Pages, the other is a reference file of the golden rules of writing and story telling.
The cabin, laptop and hand bags were all zipped up and ready to go when my eye fell on a beautiful little journal I began in 2013. This was when I first started getting serious about coming out as a writer and entrepreneur. Something made me pick it up and squeeze it in the last available spot in the handbag (also quite heavy by now.)
Mindful of Oscar Wilde's useful travel maxim I dug out the neglected little blue journal to read on the plane. I flipped back to the beginning and read all the way through. Sensational. Well, to me, any how.
It traces all the heartache and confusion of trying to work out what it is I wanted to do in my business-to-be. The pages are infused with magical thinking about social media and what was going to happen. All of it went out the window when the job opportunity presented itself to me – the job that I have now been doing for a whole year. The diary documents the angst I felt as I let my business dreams go, and the agonising suspense as I inched my way towards securing that job, interview by interview until finally it was mine. Then it the diary falls silent.
With several hours of time on the plane, and nothing else to entertain me, I filled in the year's worth of silence. Reflection is a useful tool, and these are some key things I extracted from my sensational journal review:
1. "Actual life is full of false clues and sign-posts that lead nowhere."
This is a quote from dear E.M. Forster (Howard's End again) that is so true. Something can seem so right, but then, suddenly it's not. I was so sure that my path lay in becoming a coach for creative businesswomen. I'd done the coaching course, was well into a business mentoring on-line program to get up and running with a private coaching business when the job opportunity for my current role came to me. Like a torpedo, hitting my business ship fair and square on the broadside, sinking it in minutes.
2. When a really relevant door opens, for goodness sake open it and check out what's in the room.
I had to grieve the loss of my business idea which I had out so much time, thought, effort, and yes, money into. I learned the usual way that businesses can take your money without giving anything back if you're not careful. I have zero regrets about changing tack and following the job opportunity. And the assured money, paid holidays etc. I also have zero regrets about what I learned through my coaching course. I have zero regrets about taking the job.
 3. Don't make the same mistakes you did before. 
Prior to my year of planning to start a business, I left my management role in a not for profit organisation, and took a much less responsible job, calling it my Business Loan Job. In order to manage the guilt I felt at quitting my not for profit management role, I sought coaching. All of a sudden I realised the lost opportunity-if only I had had coaching while I was actually in the role! What would that have meant? So often I felt that there was a glass pane between me and the work that would really make the difference, really turn the curve. So now, I make sure I get coaching. I have endless daily rituals to re-connect with why I chose to take on this role and what needs to happen to make a difference for health consumers in Western Australia.
4. Things take longer than you want them to
A wise colleague met with me not long after I started my new job a year ago. "Change takes time," she said. She was right, it does. While much was achieved in my first year, I wanted to get so much more done. Another reflection from reading the diary hit me right between the eyes. In my previous management role, I got stuck on the hamster wheel of too many meetings and emails. I recognised, too late, that my time would have been more wisely spent communicating and connecting with the public. Meetings and emails are necessary evils, but reaching out to the public will always provide more opportunities for transforming the way we deliver our publicly funded services. Of that I am convinced. So, lesson re-learnt and listened to. Less meetings, more media. Come at me 2016.