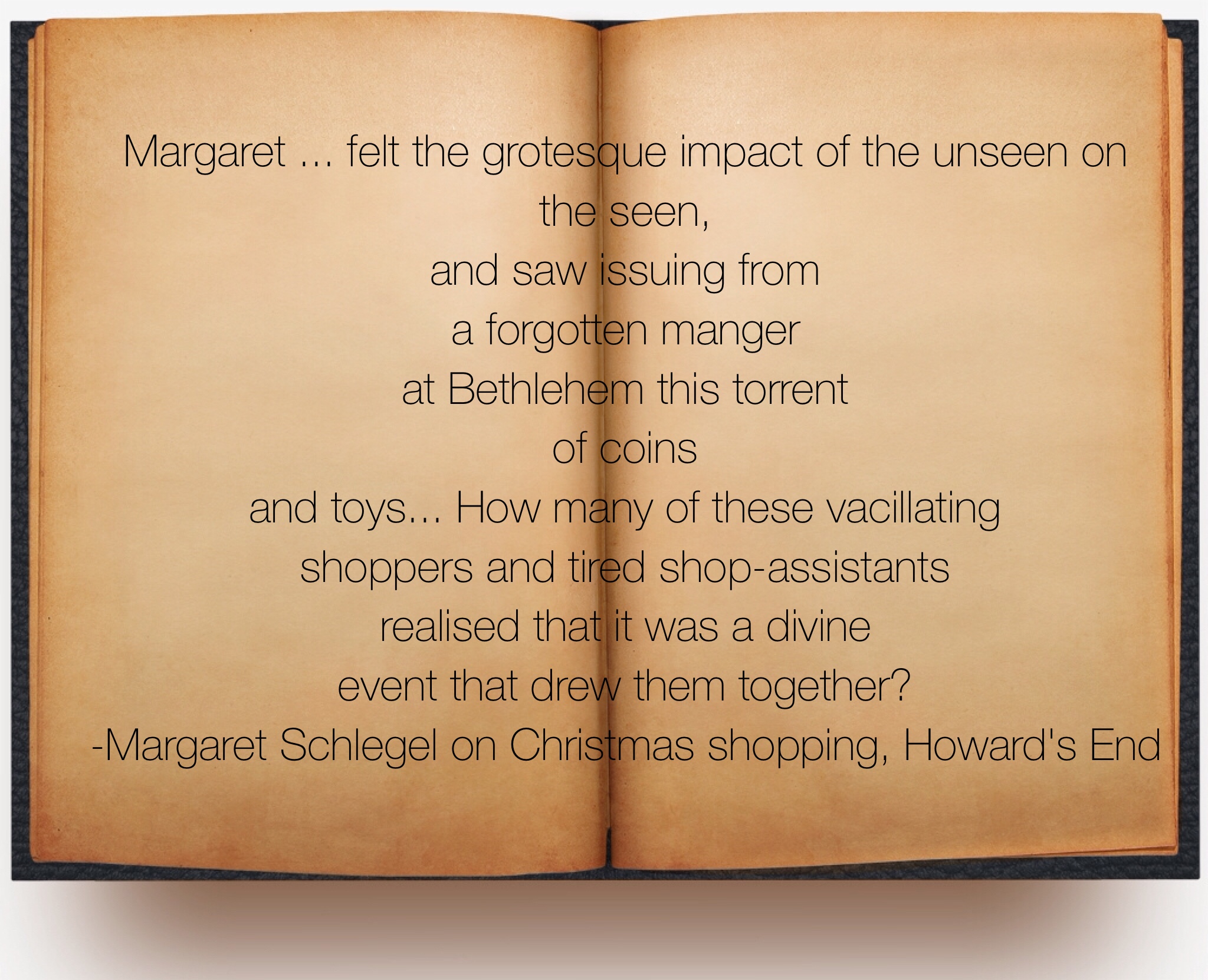 Live my life through books? I don't know what you're talking about! Some weeks ago I blogged about Howard's End, because any a novel about death and money deserves to be regularly blogged about. The last blog was all about the nature of friendship, but this blog is all about Christmas shopping, because it's like Christmas Eve as I write. So picture main character Margaret Schlegel, in a horse drawn carriage in foggy London with a rather languid and unwell Mrs Willcox, doing a spot of Christmas shopping. The First World War hasn't even happened yet. In and out of shops they go, purchasing the required presents for Mrs Willcox, prompting a series of internal reflections from Margaret on how tawdry and commercial Christmas has become. She says; "I do like Christmas on the whole… In its clumsy way, it does approach Peace and Goodwill. But oh, it is clumsier every year."
Imagine if Margaret had to negotiate the shop floor of KMart, where my daughter is working right now, dealing with the torrent of coins and toys and appalling piped music and an even more irrelevant "forgotten manger at Bethlehem?"
I myself really enjoy Christmas. That's because my family are pleasant and we do a Christmas draw so there's no need to purchase an obscene amount of presents. It's bring a plate too, so no slaving over a hot stove for the Summer Christmas road. It is a difficult time of year for many and I acknowledge you here and will take my Christmas Cracker and cheer elsewhere.
What is more universally pleasing about the so-called "most wonderful time of the year" is the magic of holidays. How wonderful it is to step out of the dance of relentless day to day work demands. How quickly one adjusts to planning around beach visits and afternoon naps. And visioning for 2016. Reviewing 2015. How I adore these activities. And time to think! Time to write! Time to read new books and be reminded on quotes from old favourites!
May this time of the year treat you well, and may your dreams and schemes for 2016 all come true!