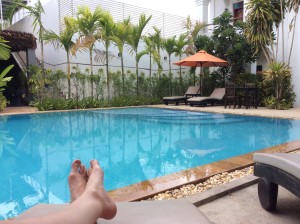 "Mid-life is a time of loneliness and regret", darling husband casually announces after a quiet morning's mutual reading. Picture this; we are in Cambodia on holiday, sitting side by side on sun lounges and there has been companionable silence for some time. I think about this; is it true for me? In terms of loneliness, no. Being single from 25 to 36 without much intermission apart from very unsatisfactory dalliances and short relationships was grindingly, painfully, cry-in-public-on-buses lonely. I was living in London for much of that time and the impersonality of that megalopolis made it easy to be lonely, and incidentally cry in public on buses. No-one would ever bother you; everyone being primarily concerned with avoiding eye contact.
Now I am in my first year of being 50 I am blessed with a lovely relationship with a partner, and yes, a warm and mutual relationship with my teenage daughter. (Teen parenting can actually rock.) I have been blessed with companionship for all of my 40s and now my 50s are also looking good in that department.
But regret? Oh yes. I do have a few, and as the saying goes, it is usually about what I didn't do, not what I did do. I don't regret moving to London, or moving to Thessaloniki, or choosing to proceed with my pregnancy alone, or moving back to Australia (especially not that last bit about leaving Greece for Australia 15 years ago. Sorry Greece, but it was a pretty sound decision in hindsight!)
I regret not buying real estate in the 80's. I regret doing an Arts degree at the posh University in my home town rather than the more pragmatic Uni which may have facilitated me unleashing my creativity earlier. I regret not living in Melbourne or Sydney at some point so that I could have somewhere a bit less isolated than Perth to call my ultimate home.
I regret doing acting lessons in London rather than writing lessons. I think I have always felt a bit precious about my writing skills; felt above getting assistance to stand in my own power as a writer.
I have learned that absolutely no-one can stop you from writing. You just sit down, and write. No-one can stop you from publishing now either which is an exciting thing. But being published by an actual publisher still carries a huge allure for me. To crack that nut I need to reach out to every single support that I can. And apparently at 50 I can finally see that. A slow starter perhaps, but a starter. Does it really matter when?
After I finished this blog,  all I could mentally hear was Frank Sinatra's My Way. And that is a good final word. As long as you start, it doesn't matter when. No regrets! Click To Tweet