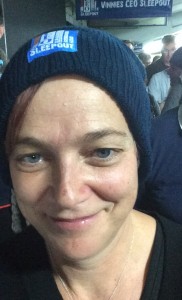 Well, I survived. One winter's night at our state's major cricket field, on a night with 100% chance of rain. And rain it did; and lighting and thunder also made their appearance. I discovered that my sleeping spot, tucked well into the grandstand and seemingly unassailable by the rain couldn't entirely withstand the ferocity of the rain, which stood out in the air like a fine mist, a miasma even. Rain dripped down through the roof occasionally, landing on my pillow or just beside it. I had my thermals on and was actually quite toasty warm. Sure, I didn't sleep really at all – but I get to go home tonight.
When the invitation to participate first came through I wondered if it was something that all new CEOs do just once; and if new CEOs like myself were targeted for the Sleepout, flattered because we were now eligible to partake.
On the night, I discovered there are many who do it year on year; some for all the years it has happened here in Perth. The Vinnies CEO Sleepout began on Paramatta in Sydney in 2006, steadily growing to encompass all capital cities and other major cities in Australia. Vinnies is Australian for St Vincent de Paul society who provide charitable relief for those in need. My father has been a volunteer for many years and at 89 still delivers food parcels and other supports each week.The event gives participants just a small taste of the experience of homelessness and the opportunity to raise money from friends and colleagues.
The trick is to get a good spot early – although I don't know what a good spot really entails and think the spot I chose may not have been quite as premium as it appeared on first sight. Lessons for next year!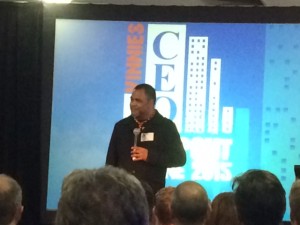 Because I will come again to do this. We need to keep it high on our consciousness that 100,000 people per night across Australia are homeless – in a land of plenty. We seem to have lost an empathy button somewhere in our nation it seems to me sometimes; and the lazy temptation to blame the victim is everywhere both spoken loud and proud and also unspoken, behind so many public policies and social mores.
So I head home very grateful to have experienced this night. I've been invited by Aboriginal Elder Shaun Nannup to embrace the experience, the rain, the earth (or its near concrete equivalent any way!) I have survived the creeping dread about the event and the small slice on insight as to what it might feel like if there really are no alternatives to sleeping rough. And I get to go home. Lucky lucky me!