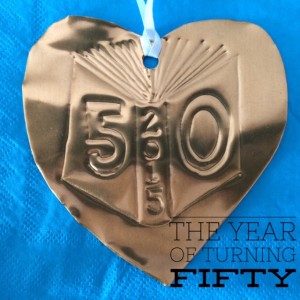 On the morning of my 40th birthday, 27th May 2005 to be precise, my mother called me, and when I answered the phone greeted me with this chirpy salutation;
Happy birthday darling! Fifty's so much better!
I have thought about that a lot, and am thinking much more so as 27th May 2015 rolls around, and I will really be 50. When I think about her pronouncement, I recollect that I was her youngest child, and when she turned 50 I was 12. Freedom was almost completely within her sights; parenting duties were definitely at the "tapering off" stage. It would be just a few more years until she finally realised a lifetime dream of travelling to Europe.
I have just the one child – a very independent and organised 16 year old. I have already realised my dream of travelling to Europe – I first went with my mother and others in 1979; and went back in 1990 to spend the entire decade in the Old World. What will my fifties have in store for me? The same glee my mother reported?
There are a chorus of other positive women's voices from my friends who have recently turned 50; and 50 is now the new 30 so there is nothing to fear, apparently. Sure, there are often disorienting moments; such as one of my rare visits to my daughter's high school where I am usually assailed with flashbacks to my own high school years and then compute that I left school 33 years ago. When I left school, 33 was really old. 50 was just ancient.
However, when I am not feeling that disorientation between my actual age and my internal age (27 is about where I stopped counting) I feel the power of being 50. Whatever challenge is currently interfering with my sense of peace and well-being, I will have faced it before. I can draw upon a five decades of hard won experience. I will have perspective about the situation and a toolkit of strategies to handle it.
This hard-won experience almost feels like an entity and gathers behind me; it has my back.
It seems a small price to pay, looking a bit older, when you have all that juicy strength to draw on. And there's always hair dye.
So yep. I am with mum. 50's so much better!