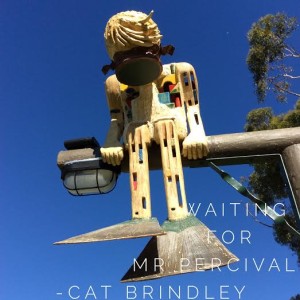 The artist never entirely knows — We guess. We may be wrong, but we take leap after leap in the dark

Agnes de Mille
Today I had one of those beautiful moments when I followed an impulse and thought I would go, right this minute to view my friend Cat Brindley's sculpture "Waiting for Mr Percival" as part of the City of Melville Sculpture Walk. I knew I would drive right past her house on the way to the sculpture, so I decided to stop in. I arrived just in time to join her whole family who were going down en masse to view and celebrate her achievement of getting a sculpture in an exhibition. And getting a red dot. Sold!
I didn't want to miss this moment; she and I have been nurturing our Artist's spark gently over the years we have known each other; since our daughters were in primary school and now are young women. And I stumbled into a bigger moment, sharing her achievement in the company of significant others.
As we walked she and I reminisced about our journeys to this point in our lives; last year I published my book, this year she got her sculpture out. We are out, as artists. Once you are out, you stay out!
We talked about how terrible and wonderful all at once it is to get your work into the world. How no amount of courses or thinking about it or talking about it is a substitute for actually getting your work out into the world. Experiencing all the unexpected emotions of living a dream and finding out what it really does feel like.
Ah the journey of the artist; how it zigs and zags! I shared with her Danielle La Porte's wonderful Invocation which includes the words "absolutely everything is progress". It is so important for us to embrace our journey, wherever we are, rather than beating ourselves up for how long it can take before we get our work into the world, battling against self-doubt, procrastination, family responsibilities, self doubt…. To remember always that absolutely everything really is progress is such a comfort and strong impetus to keep on leaping into the dark.
P.S. If you like my talented friend's sculpture you can vote for her as part of the People's Choice Awards; just click here.)