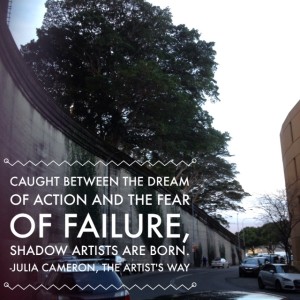 You may be aware I am quite a fan of Julia Cameron's The Artist's Way. If you've never heard of it, it's a 12 week program, and I have created a freebie email series that sends you a weekly email with a check in from the previous week and a list of the next week's tasks. I am just starting the 12 week series and this is what is leaping out at me in Week One; the Shadow Artist.
Of all things, it's making me think again about my parenting. When my daughter was a young infant and then toddler, I had a horror of disciplining her. I suffered from the illusion many parents seem to; that if I disciplined my child, she would no longer love me. The reality was, without discipline, I would no longer like her. And that is where the danger grew and blossomed until eventually, at some point, I was able to shift gear from a mother who nurtured to a mother who could provide discipline and nurture. I am happy to say we have had a wonderful relationship for at least the last decade and she is a glorious teen.
Aside from that irrational fear that she would not like me, what also stopped me from disciplining her was a fear of squashing her creativity. With the benefit of hindsight I now realise that when children are 5 and under their creativity is not yet under much threat. Painting, drawing, play doh, singing, dancing – all of these are regular activities for children at home and at school. And boundaries and creativity are very good friends, after all.
The real risk to creativity starts to occur as children move from primary to high school and creative tendencies are starting to show green tendrils of potentiality. However the rigidity of the peer environment where no mistakes or stupidity can occur make for a very hostile environment for creativity to flourish. The power of the recognition of the description of the Shadow Artist in Chapter one highlights that this is what happened to me. That was why I had such a horror of injuring my daughter's artist.
 …It takes nurturing to make an artist. Shadow artists did not receive sufficient nurturing. They blame themselves for not acting fearlessly anyhow
That really, really makes sense to me. Your artist is a tender, vulnerable creature who needs encouragement and nurturing. Your teens need you to give them the "go on, give it a go and learn!" message, not a message of fear and caution. That's exactly what I can do right now with my talented teen. And while I'm at it, I am re-nurturing my artist with Artist Dates, Morning Pages and making my way back through the 12 week program to see what I missed last time.
I will finish with another two quotes from Week 1 that I find very inspiring:
In order to recover as an artist, you need to be willing to be a bad artist. Give yourself permission to be a beginner. By being willing to be a bad artist, you have a chance to be an artist, and perhaps over time, a very good one.
…and
"..do you know how old I will be by the time I learn to really play the piano/act/paint/writ a decent play?" Yes … the same age you will be if you don't. So let's start.
Here's to a New Year filled with plenty of bad art, good art and brilliant art.