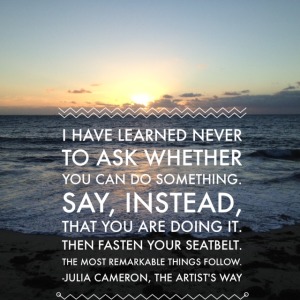 There is something quite challenging about calling your website or business name after you. But in the case of a writer, artist, healer, coach – your name may be the most sensible way to go when deciding on a name. Here's a few reasons to consider:
1. Diversity
You may have a range of different books, offerings and products. With a business named after you, it is easy to bring them all together in one digital place-on your own website named after you.
2. Differentiation
There might be a zillion business coaches, but there's only one Barb Wade, for example. At the heart of it, people buy from people-especially if it is an artwork, a book, a course, coaching. It makes no sense for your clients to have to think of what your business name is, when you already have a perfectly usable name – your own.
3. Trust
People also like to know who they are buying from, and if they have heard of you through twitter, facebook, LinkedIn etc, they feel they can trust you through their other online or real world interactions with you.
4. Passion
People know that if you are putting your name out there as the business name, you are effectively putting yourself on the line. It shows that you are passionate about what you do and willing to risk your all.
5. Self-belief
I would add another reason for you-it is a powerful way for you to demonstrate your belief in yourself. And remember, it doesn't have to feel safe or easy-as Julia Cameron would say "I have learned never to ask whether you can do something. Say, instead, that you are doing it. Then fasten your seatbelt. The most remarkable things follow."
Don't wait to be ready; taking action will make you ready!