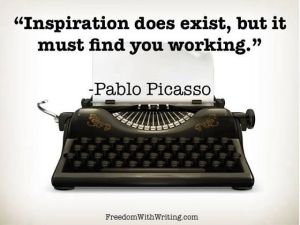 This week I treated myself to an event at our State Library. The topic was "Be Inspired" and the two guest speakers had recently been nominated for a state literary award. One was Dawn Barker, who I interviewed recently, the other Yvette Walker, the winner of the award. Yvette's book Letters to the End of Love was on our Bookclub list this year, so it was a kind of Book Club outing. (Yes I am going to interview Yvette as soon as I can!).
Both authors were wonderful speakers, eloquent in their love of reading and listing off their favourites and igniting so many memories for me. It felt like a warm fire in my chest, reminding me just how much I love reading, words and writing. It seems I had somehow forgotten this, as my reading diet has become so much more about non-fiction and self-improvement.
What was more electrifying was Yvette's description of how, step by step, her characters became more than sentences, more than depictions, and became independent beings. I had never had this alchemy of writing process explained in a way that I could relate to. Visualise. Perhaps actually do! The possibilities opened up by a free evening talk seemed limitless.
There's nothing like the generosity of artists, sharing their time and insights – have you been to an inspirational event lately?