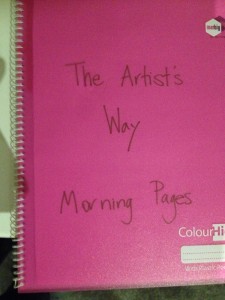 I thought I would absolutely hate it. The Morning Pages; three pages of long-hand every morning. But I was willing to give it a go, especially if it meant that I could justify a trip to Officeworks for some stationery.
My previous experience of writing a daily journal, which I did for recovery purposes every day for the first six months after surviving a home invasion and assault (see more here, with respectful trigger alert) was torture.
The Morning Pages are nothing like that! There is something so comforting and meditative of scratching pen over paper, writing whatever you like. And because it's not a journal, it's not an anything, it gives great freedom.
If you don't know what on earth I am talking about, it's Julia Cameron's The Artist's Way. It's a 12 week course for anyone, as we are all artists.
There are two tools that she created for us to enjoy forevermore; The Morning Pages and Artist Dates.
So what the heck are Morning Pages?
Three pages, written long hand every morning. It's 30 minutes that you give yourself. It doesn't have to be neat, or make sense or be sequential or be pleasant. It's best you don't read or share them. They are a way to keep on clearing everything out to allow the space for creativity to come through.
I'm talking here about the creativity in all of us. Not the specific skill of writing or painting or drawing – but the skill of being here,  being playful, being responsive to this marvellous experience called life.
And Artist Dates?
They are a weekly excursion you take by yourself-no taggers along mind- no children, lovers, partners, friends; just you and your inner artist. Your inner artist has been looking for your time and attention and will not thank you for bringing another person, so they have to be, yet again, gooseberry.
Dates can be anything at all. Not necessarily a virtuous trip to the Art Gallery to see some serious art – although if that is what your heart yearns for, then do it; but really anything that takes your fancy, including a lovely walk somewhere beautiful.
Are you feeling the call?
Is there something in you that is feeling the intense urge to let out your creativity? I have found this to be a painful urge many, many times. There is nothing like the relief of letting it flow. Do yourself a favour. Get a copy of the Artist's Way and start to let it loose.