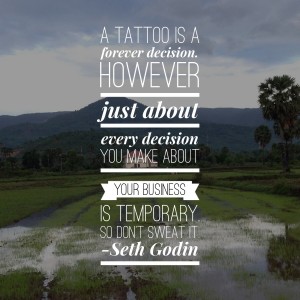 So… change is definitely on my mind at the moment. It got me to thinking. Are there some useful signs to pay attention to, if you think you need to change direction? The short answer is yes, there is. Here are five for you to think about…
1. You're offering something, but people are asking for something else.
You may have had that experience where you think you are going to offer business coaching, but people keep approaching you for life coaching or career advice.
Maybe it's the market telling you you're like, barking up the wrong tree! There's no shame in heeding the signals, and accepting that others seem to know you better than you do yourself.
2. You love what you're offering, but your public doesn't.
It is so easy to think that our latest creation or offering or product is the next best thing that everyone absolutely can't wait to get their hands on. Sadly, is not always the case. You will know, because your client list is looking awfully lean. Ditto the bank balance. It may be time to re-orient your offerings to what people want. As Marie Forleo says; "Ignoring what sells doesn't make you a better artist, it makes you a starving artist."
Sometimes, you make be offering a client what they need, but it ain't what they want. Think of full time carers for loved ones. You may have a passion for supporting carers, ensuring that they are looking after themselves and factoring in self-care. The tricky thing is, carers don't want this, even though clearly they may need this. If you stop for just a minute you can think of quite a few things you need but don't want (a regular exercise regime for my good self comes to mind immediately!)
3. Your niche is infinite
There is much that is said and written about defining a niche for your business. Those in America usually pronounce the word so it rhymes with "rich" instead of the French pronunciation of niche which rhymes with leash. In America therefore you can say "your niche makes your rich" and it rhymes. It's a bit harder to pull off that phrase in Australia 😉 But however you say it, a niche is super important.
The simple counter-intuitive idea is that if your niche is "everyone" you will in fact sell less than if you articulate your niche as "I work with professional women 35-55 who are in middle management and looking to make the next move up the career ladder".
A survival mentality will push you to want to offer your products to everyone – and be faced with the constant struggle to find enough clients. An abundant mentality will see you the making the right offering to a restricted list of the right people, and having more clients flow your way.
4. The numbers are just not adding up.
Measuring business results can be relatively straight forward with financial and social media metrics. It's also really important to have the hard conversations with yourself. And there is no hiding from that bank balance, or from the flatlining Facebook Page report at the end of the week.
While it is difficult, this sort of hard evidence needs to be looked at honestly and with a willingness to make the necessary changes to turn the curve upwards. And that often means tweaking or downright changing what you are offering.
5. You're just not feeling the love.
When you are working to your core strengths, you will feel in the flow, and there will be a lightness and enthusiasm hanging about your business. While you are not going to love every moment of your work, if that feeling of disenchantment, depression and lethargy just won't shift, it could be a strong sign that you are no longer on the right track.
I take comfort from marketing guru Seth Godin, who is having the final word on this: "A tattoo is basically a forever decision. However, just about every decision you make about your business is temporary. So don't sweat it."