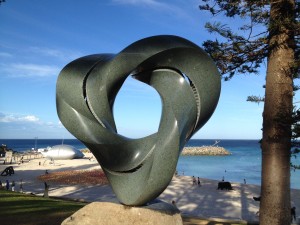 This week's post is dedicated to focus. When I recorded interviews for the Abundant Businesswoman's Summit I learned a lot – but there was one point that has stuck with me.
Ashley Ryan from Her Smart Marketing was interviewed as part of the series and said she talked about attending a seminar run by T Harv Ecker who noted that if there was just one piece of advice he could give, it was to focus.  Ashley says;
I thought this was BS but in hindsight really if I had focused I would be a multi-millionaire
Focus.  I have been thinking of this so much this week. I had two major focus distortion factors this week.  I am wondering if you can relate?
Distortion Factor 1: Bright Shiny Syndrome
You know, when the next exciting thing comes along and distracts you from your purpose.  This week I found myself on my Ipad checking out a neat little tool, The Social Enterprise Builder.  I started getting quite excited until I read that social enterprises are more complex than not for profits, more complex than for profits.  And I reflected; no, I do not need to start a social enterprise right now. I can stick to my do-able, current plan of being a sole trader and ONCE I have that absolutely down pat, THEN I can think about investigating being a sole trader. By then we might actually understand and welcome social enterprise into our paradigm here in Australia!
Focus Distortion 2: Failing to Focus on my Vision
As well as battling Bright Shiny Syndrome, I have also been falling into the trap of failing to focus on my vision. Second-guessing it and diluting it in a most dis-heartening manner.  "It's not the right vision!" "It will never work!" You get the drill.
How to bust out of this cycle
Like a  magpie, I collect the wisdom of all the internet's vast array of on-online training.  I recently heard a great tip from Suzanne Evans.  It helps you re-commit to your vision AND stay away from Bright Shiny Object syndrome:
If you understand that about 60 days is where our business attention span will start to sag or snap, you can be ready for this.  Set yourself a 60 day game plan, and review it!  That way, you can have a strategic Bright Shiny Object instead of a random one.  You can also keep on refining and refreshing your vision so that you can stay on task with where you want to go.
Simple hey?  But perhaps not easy!  So enough about me, what about you? How has your focus been this week?  Could you benefit from refreshing your focus and motivation with a new, focused 60 day plan?