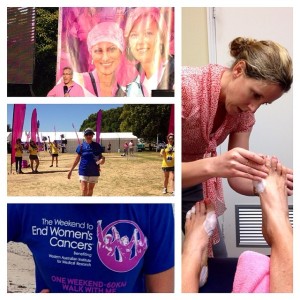 For today's inspirational speaker on the Abundant Businesswoman's Summit, I have taken the liberty of downloading a photo collage from facebook to celebrate her achievement – that is Jennifer Rose Bryant's achievement finishing the 60km walk for the Weekend to End Women's Cancers.
I love that she kept on right to the end – and the blisters were just the start of it!  I feel that she has shown us both the importance of persistence, and values.  She has shown both of these to an impressive degree this weekend!
When I interviewed Jennifer for the Abundant Businesswoman's Summit (still free to sign up to!) it was clear that community is important to her; part of the whole, abundant picture of being a businesswoman.
Jennifer is also a gifted networker and has taken the networking group Women in Business WA to a whole new level since she took over running it.  In the interview we explored how the right partnerships will help you work smarter and get yourself to where you want to be more quickly.  Being around your peers really helps you to understand what you need to know, depending on what stage you are at with your business.
To listen in and enjoy her free gift, just sign up to the Abundant Businesswoman's Summit.  I look forward to "seeing" you there!