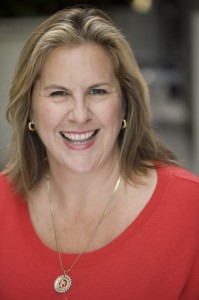 Meet Samantha Bennett. She is my very first guest on the Abundant Businesswoman's Summit. I just knew I had to have her on the series when I saw her company was called "The Organized Artist". "Here's a gal who can be creative AND abundant", I thought. "What's her secret?"
Samantha is an actor, writer and poet. She has found the secret to moving from having a "patchwork" of day jobs to support her life as a creative, to actually running her own abundant business. She created of The Organized Artist Company to help creative people get unstuck from whatever way they're stuck, especially by helping them focus and move forward on their goals. She helps overwhelmed procrastinators, frustrated overachievers and recovering perfectionists everywhere with her publications and online training.
• In Samantha Bennett's engaging, lively interview, you will learn:
• The #1 abundance building habit all entrepreneurs must develop
• Why your friends, family and even yourself are the last ones to go to for advice on how much to charge
• Why having the right coach is a MUST not just now, but as you grow
• How being authentic can pay HUGE dividends in getting your client list engaged and ready to buy from you
I am excited about the free gift she offers too – as you will be when you find out what it is.
For many years Samantha has taught creatives time management techniques, tweaked for the needs of the artistic entrepreneur. She has distilled her knowledge into her new book Getting Things Done which is released THIS WEEKEND. This book is just what we creative businesswomen need; "Getting Things Done" I couldn't wait for the launch and have already bought it, devoured it and feel invigorated and motivated! It is engagingly written, and full of practical exercises you can do. It chunks down creativity so there is a clear, doable plan to get moving on those projects near to your heart. Highly recommended.
I am so excited to have Samantha on the Abundant Businesswomen's Summit and you can join in, for nada and hear her interview. She manages to be both entertaining and incredibly pragmatic and helpful to get you moving into abundance.
Does it show that I am really excited about this series? I am so looking forward to it starting on 1st March 2014, and I would love to have you along!