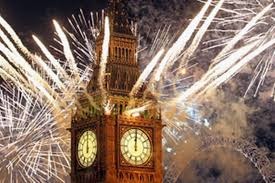 I am definitely a New Year's Resolution Enthusiast. Or perhaps more of a 365 24/7 goals person – but there is something so special about the beginning of a new year. I have cleaned out my wardrobe and chest of drawers, depositing three full bin bags into the charity bins. I have purchased new sheet sets so I can start the year with fresh bed linen (a new initiative for this year).
So as well as my recently updated Vision Board I am going to add two New Year's Resolutions into the mix:
1. Gratitude
I chose this image out of the plethora available because it reminded me that I have had the opportunity in my life to go right up to the top of Big Ben and put my hands on this very glass. And be there for when it chimed eleven.
I may not be travelling as much right now, but I have travelled much and enjoyed the wonderful novelty that travel brings
2. Letting Go
Yes I didn't think buying real estate in the 80's was something that people did unless they were boring suburbanites and I knew I was destined to travel the world! The prices are laughable in hindsight, and the proportion of the first home owners scheme relative to the price of the real estate is enough to make one cry. But I have to let that go. I didn't buy real estate then and that is ok. I bought in 90's. Let. It. Go.
So I am ready, with some gratitude and letting go, to embrace whatever 2014 will bring…