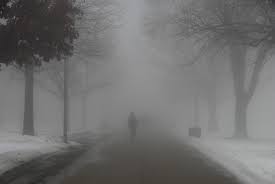 I am a shameless social schmoozer, and I quite enjoyed the opportunity of Friday night's Christmas Party at the City of Cockburn so I could spread the word about the impending Coolbellup Farmer's Market due to start March 2014 (small fist pump!)
In between Christmas Party dinner courses I singled out people I wanted to talk to about the project, or update them face to face as they had shown support early on in the project.  Conversations lasted between courses, and then I would scuttle back to dine on the next course.
One of the conversations I had really resonated; "there's a blog in that" I thought.  A business leader and I got talking about the difference between working for a salary and working for yourself.
Despite many years of experience, he describes the phenomenon of The Fog.  You don't actually know for sure as a business owner, what will happen next.  You can see the next step in front of you but only by taking the next step are you going to move forward, where the next step will then be visible.
It was a revelation to me, as an emerging entrepreneur – to listen to someone so experienced articulate that business always involves uncertainty.  The experience you gain is more about how you manage that uncertainty.  So business is always a leap of faith, and the importance is to take the next step.  Should that be a mis-step this will be revealed and another choice made.  Just keep putting one foot in front of the other.