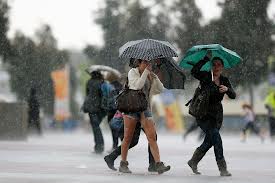 It was awfully easy to get a picture of horrible rainy weather – just google Melbourne weather, and voila!  Certainly wearing my Haviana thongs (flip flops, footwear for those not from Perth) was not my best move.  I had to scrabble through the suitcase to find some warmer footwear before braving the trip to the hotel room.
But quite frankly, I don't care.  One doesn't come to Melbourne for the weather – there are endless funky places to eat, art galleries and cultural events, comedy- who cares if it is November and raining?  Especially after a 37 degree day in Perth yesterday with *very* friendly flies and a sudden realisation of how far away February is, the hottest month of the year.
All of this aside, what excites me is going away.  Leaving everything behind for a few days and slipping out of the routine.  Having some time to think, reflect on the recent past and plan for the near future.  It seems such a privilege to have this week for just that purpose.
It makes time seems tyrannical, that I have to jump on a plane to escape its clutches – but really, I am actually in total control of my time.  It just doesn't look, seem or feel like it.
A hundred little decisions to add a project to the repertoire at work, or get involved in something in the community, or sign up for yet another online training course which really needs quite a few hours to listen to, much less implement… it all adds up to me feeling totally overwhelmed and somehow victimised by my calendar. So it is time for me to sign up to another habit – not just blogging daily, but taking very special care of my time and remaining in control of my diary, not at its mercy.