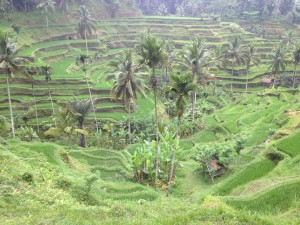 There is nothing like a week's retreat in Bali to freshen the senses and make everything seem like new.  Especially in the middle of a cold, wet, Perth September which is showing no signs of relenting for Spring and then Summer.  It is so magical to be able to fly in just over three hours to another country with a whole different climate, culture and pace.  Ah, Bali!
An even bigger treat to indulge in an art and yoga retreat in a little villa just above the teeming bustle that is now Ubud.
The edits from the draft I submitted to a professional editor were all there for me to complete – and yet with all the excursions, downward dogs and painting, they only half got done.
Since coming home to the cold and rain, some intense sandwiching issues of mother and daughter, I have nonetheless managed to get these done. So now, the first three chapters at least are edited.  I even met with a colleague who had read through and unlike everyone else I have submitted the book draft to, she has actually supplied her edits.  'Just go for it and publish it how it is!' she advised.
Looking into online publishing options….