Having grown up in Perth in the 60s and 70s I was conditioned to know that to be creative, you had to get out of Perth.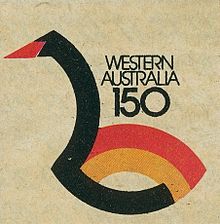 In 1979 I was extremely fortunate as a 14 year old to travel to Europe, and my fate was sealed. I left Perth for Europe in 1990, returning only when pregnant in 1998.
But by now, having been back for around 15 years, and having reached the age where one cares less and less what anyone thinks and more and more about doing whatever it is that we are here to do – I am re-thinking Perth as a cultural wilderness.
I have been too chicken-shit to own my writing ambitions, so have been attending art classes with the lovely Dawn Meader, who knows more than most about how to get the creative mojo happening. I swore at the last class that my next fun class would be a writing one.
Somehow my googling led me to the Federation of Writers WA – and their forthcoming workshop When the Personal is Political. How very apt. Memoir for social change. Just what I am trying to do. And I did not fail to note that the original date for the workshop was anniversary date, 10th May. It had been moved, seemingly for my own convenience!
While the session itself was useful, perhaps more so was connecting with such a lovely group of like-minded people, and finding the lovely Mattie Furphy House in Swanbourne. "Creativity beyond reason" is the by-line. Where have you been all my life?
The presenter Madeleine Ostrander highlighted how the personal and the political can be effectively interwoven in an engaging writing style that lends itself to moving the reader and hence maximising the potential impact of the message. Although this is what I have instinctively done in all four drafts of my book to date, it will be good to bring some consciousness to the process as the book transmutes into its published form.
We spent much of the time reviewing examples of relevant writing to get a feel for the concept, and the last little bit of the workshop having a go. I found myself inextricably drawn to "tweak" the letter I wrote for the paper on 10 May 2002, the morning of the assault. Perhaps it breaks all the rules, but I changed it slightly. Memoir – can it ever be really what happened? Here it is:
"On 10th May 2002 I began my memoir in earnest. It was in the afternoon, after all The Formalities were completed. I finally got a moment alone after greeting my 3 year old daughter at the end of an uncharacteristic day's absence, and after allaying the concerns of close family.
I snuck off to the end room of my parent's house, where I was taking temporary refuge, and I started to write a life-changing letter to the paper:
At just before 5am this morning my home was invaded by an unknown man who sexually assaulted me. The outrage occurred in my own home, with my young daughter on the other side of the door, protesting very loudly at mummy's lack of attention and parenting.
The "act", once I had given up the hopeless effort of trying to escape, took all of 60 seconds. The initial paperwork took ten people (including myself) a full working day to process. The aftermath may take months. When and how I will feel safe to sleep soundly in my bed is anyone's guess. I flatter myself that it is a case of bad things happening to good people. I work voluntarily; I raise my daughter single-handedly, without maintenance, and yet keep the doors open for her overseas father to be involved in her life.
As the "victim" of a serious crime I went to through every police and forensic process that I could. This took the entire day. And what is the best I can hope for after such a day? A captured and convicted criminal to avoid other women suffering what I did, or much worse. That I can assure you I do hope for and spent the whole working day achieving. Whatever I may feel about the limits of the prison system, it is painfully, personally obvious to me that the removal of such people from the streets is essential.
But how could it be that a young and seemingly healthy man could reach the point of perpetrating such a violent, empty gesture? I feel contempt for my attacker, but also bafflement. If, as I believe, all humans are fundamentally interconnected, how can I be connected with this person? I am connected to him forever in the statement that took so many tedious and painful hours in preparation. But I am connected to him in that we are both human and alive tonight. Yes, I do spare a thought for him on this evening, as I nurse my wounds and pray that I and my daughter will not be permanently scarred from this experience. Is there anything that I could do, anything that I could say that would make him see how foul and impotent his actions are? Is there one magic word that could scatter forever the possibility of women suffering this kind of treatment, perhaps even at the hands of their "loved" ones?
Of course not, of course not. And so I have achieved nothing. I am alive however, and so is my daughter. Amen to that, and a long happy life. Forgiveness to my attacker wherever he is hiding. Peace on earth, however unachievable.
I do not send it in. The world is not changed."
I have long since given up on the media to be the right vehicle to tell all of the story. But I am sure re-thinking Perth as a cultural wilderness. That is another excuse to not write or be creative which must go by the wayside!