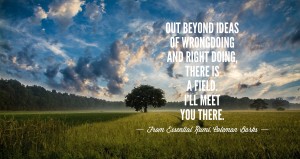 The Goddess word from the Red Tent Sisters on Friday night was Beyond. Something nagged at me; a quote, a poem that was powerfully, eloquently Beyond. So I did what all of us can do now, and googled. The Rumi Poem is what I found. Beyond. Beyond is possibly where I am often most comfortable.
Let me tell you a story about myself. It is a story of survival, as told in my book. A respectful trigger alert applies right here because it refers to me surviving a home invasion and assault. My karma became entangled with this person's when he intruded into my home and assaulted me.  I of course reported it, but 14 months passed before he was found.
I had never been a fan of the prison system, no doubt deeply coloured by the experience as a young adult of visiting a friend in maximum security (at the medieval Fremantle Prison before it became a museum). It seems such a waste of human potential. There seems to be nothing in the model that addresses how to call that person back into society, where nine times out of ten, they will return. And $100,000 per year to keep them in prison? Is that really a sensible use of resources?
After the strange limbo of the 14 months of not knowing who this person was and if he had struck again, abruptly he was found through DNA back-capture and the police knocked at my door to let me know he would be arrested on Monday.
All weekend, I knew, and he didn't, that an arrest was about to happen.  Instead of feeling elated I felt a terrible sadness at the waste of his life, from boy to man, in and out of corrective institutions' revolving doors. A profound grief that we put people right outside society where there is no way back into the fold.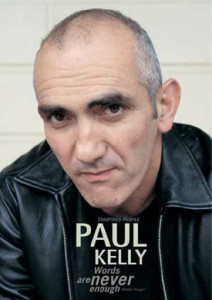 It so happens that I am old enough to recall going to the Herdsman Hotel in Perth in 1990, to catch the last set of a Paul Kelly gig before I left for Europe. There was no queue, no charge. I walked on in, enjoyed listening to this man whose music meant so much to me, and not long after I had set off on my decade long odyssey to Europe.
All the time I lived in Europe, which was pretty much all of the 90's, I never stopped playing Paul Kelly's music.  It drove my Northern flat mate around the twist.  She didn't get Paul Kelly; he is our voice. He told first person Australian stories as men, women, black, white, cruel, victimised.
There are two songs of his that have prodded very painful feelings in me; God's Hotel and How to Make Gravy. They were both a lament, and finally, a call to action. Over and over again the weekend when I knew the perpetrator would finally be arrested, I played God's Hotel  to help articulate and move these feelings through. It speaks of an inclusive, merciful world; all that prison is not.
Nearly another year passed before the perpetrator was sentenced to nine years prison; seven with parole.  God's Hotel was joined by How To Make Gravy for obvious reasons. A beautiful Christmas song written from the point of view of a prisoner, shut off from his family on Christmas day. When I heard Paul Kelly play it live some four years after the perpetrator was incarcerated (a beautiful gig in a vineyard, huge queue, definitely not free now) I couldn't stop the tears from seeping down my face from behind my dark glasses.
I mobilised these emotions about incarceration by volunteering to attend a restorative justice program in a Perth prison.  I took in a CD and played God's Hotel and read out my diary entry of how I had felt about the perpetrator being arrested, and cried. Prisoners spoke to me of the profound effect this had on them.
Still, How To Make Gravy  haunted me, encouraging me to take the step of doing a Victim Offender Mediation conference – face to face – with the unknown perpetrator.
And finally, in his sixth year in prison, I did it.  I met him face to face, in the field beyond wrong doing and right doing. And we talked. He apologised. Said he needed a long sentence to get upsides with drug addiction. And yes, it was a profound and positive experience.
Pip Brennan has written a book about her experience as a survivor of crime, Not My Story. It really isn't her story, it's just something that happened to her.